Yonkers City Council Wants Union Officials to Resign: Media Update From First Teachers Union Video
Here's a quick overview of this week's news regarding the first video in our new series on teachers unions, which we released on Tuesday.
First of all, News 12 is reporting that Yonkers Mayor Mike Spano believes that based on our video, the Yonkers Federation of Teachers should be investigated. Here is the mayor's statement:
"I found the content of this video to be disturbing and upsetting on many levels. I believe it warrants an investigation into the standard operating procedures of the Teachers Union's leadership as it brings up questions of the improper safeguarding of our students' well-being and potential theft of services."
News 12 also reported that Yonkers City Council President Liam McLaughlin and three other council members called for the two union leaders to be fired. McLaughlin told News 12 that he wants there to be a full investigation into the union officials, adding:
"I watched the video and saw very clearly the leadership of the YFT counseling corruption and cover-up of child abuse."
According to News 12, the American Federation of Teachers, the leading teachers union in the country has also launched an investigation into the union officials after viewing the video.
The Journal News had the following story on the front page of their publication this morning: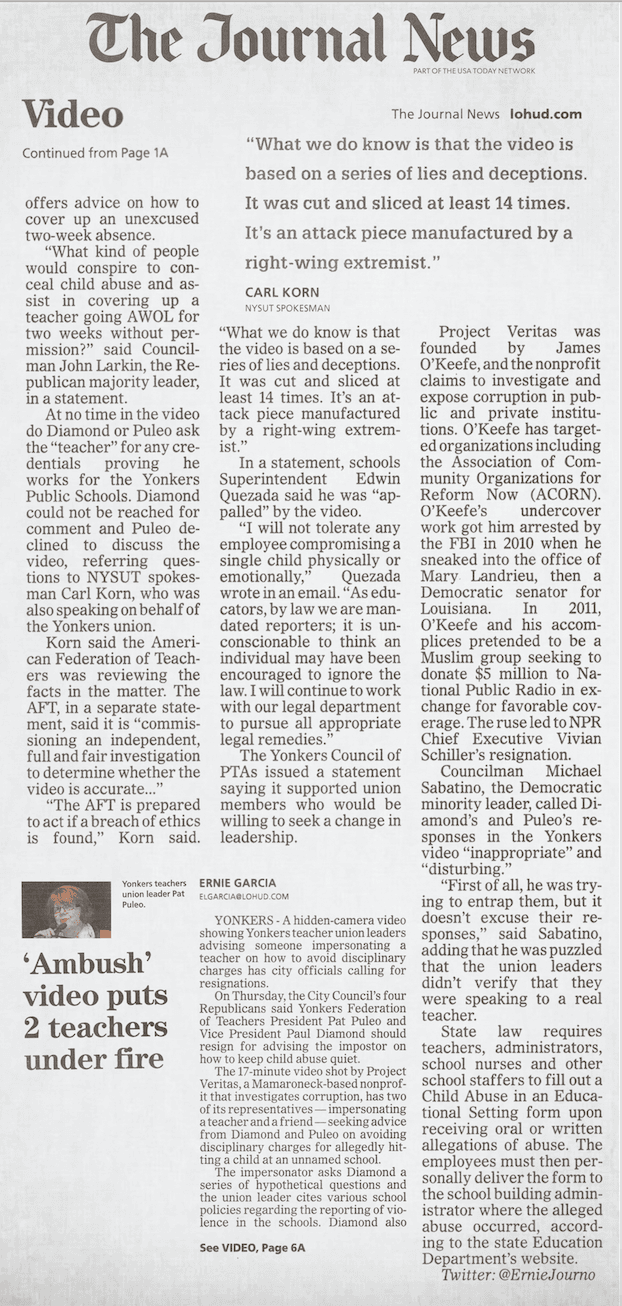 Here is more coverage from the Washington Free Beacon and Empire State News. 
About Project Veritas
Project Veritas is a non-profit investigative news organization conducting undercover reporting. Project Veritas investigates and exposes corruption, dishonesty, self-dealing, waste, fraud, and other misconduct in both public and private institutions to achieve a more ethical and transparent society. Project Veritas is a registered 501(c)(3) organization.