Veritas Wins Important Common Core Lawsuit Hearing "With Prejudice"
(Los Angeles) As part of its Common Core video series, Project Veritas released an undercover video in January of 2106 in which National Geographic/Cengage textbook sales representative Kimberly Koerber was recorded stating that "the dead white guys did not create this country" and "damn the Second Amendment" along with additional controversial statements. Following the release, Koerber sued Project Veritas in Los Angeles County Court alleging, amongst other things, that her privacy had been violated because she had been recorded without her knowledge.  Late last week, the court dismissed the case, with prejudice.
The Court found that Koerber's complaint had been filed past the one year statute of limitations. However, the Court went on to decide each of Koerber's eleven causes of action against Project Veritas, and held that none of the eleven had any merit.
At the onset of its analysis, the Court noted that in California, courts recognize surreptitious recording for news gathering purposes as "conduct in furtherance of the exercise of the right of free speech."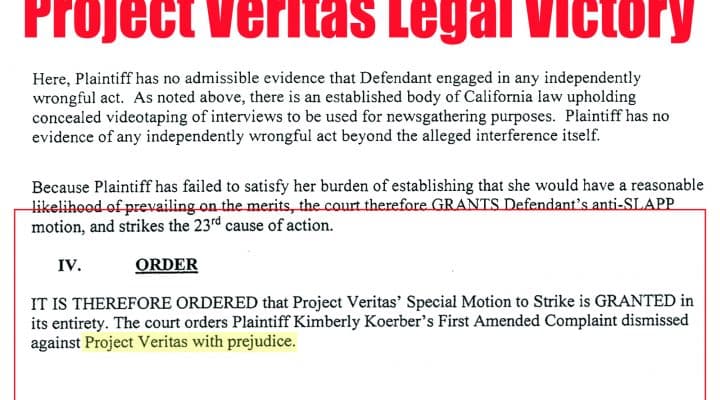 The Court went on to explain that, in spite of Koerber's claims that she believed the conversation between her and Project Veritas' undercover journalists to have been private, the fact of the matter was the conversation had taken place on the patio of a Starbucks Coffee Shop – "a quintessential 'public place'" – with other bystanders and background noise depicted in the video footage.  The Court felt such circumstances vitiated Plaintiff's privacy claim, remarking that "a communication is not confidential if 'made in a public gathering'" or under other such conditions where the parties might expect to be overheard.
Koerber separately complained that Project Veritas published false information about her, painting her in a "false light" in the public's view. The Court disagreed with this as well, explaining that the video contained footage of Koerber's own statements, so there was nothing false about the Project Veritas publication.
"This lawsuit was frivolous from the beginning" said Project Veritas First Amendment attorney Ben Barr. "It featured one angry subject of a report who alleged eleven counts of malfeasance by Project Veritas, ranging from negligence to trespass. After review, the judge agreed not a single count was grounded in reality."
"The Court's decision was a victory for the First Amendment" said G. David Rubin of Litchfield Cavo LLP, litigation counsel for Project Veritas.
"Like many other copycat lawsuits filed against Project Veritas, wild claims of recording 'confidential' and 'private' discussions simply were not true," stated Project Veritas founder and President James O'Keefe. "This holding vindicates Project Veritas, and proves just how careful Project Veritas is in complying with the law when performing undercover investigations."
About Project Veritas
Project Veritas is a non-profit investigative news organization conducting undercover reporting. Project Veritas investigates and exposes corruption, dishonesty, self-dealing, waste, fraud, and other misconduct in both public and private institutions to achieve a more ethical and transparent society. Project Veritas is a registered 501(c)(3) organization.