Veritas is moving in a different direction.
After years of releasing hard-hitting investigations that define modern undercover journalism, Veritas is moving in a different direction.
Don't worry — we're not throwing in the towel.
We're putting gas on the fire.
Instead of relying solely on our journalists in the field, Veritas is enlisting YOU. We're reaching out to brave individuals who are compelled to expose wrongdoing and bias and we are helping them tell their stories.
Already this year, insiders have taken on goliaths like Facebook and Chase Bank. And the power of Veritas has supported those insiders every step of the way.
As we move forward, Project Veritas will amplify the unheard voices who have experienced first-hand the oppression of big business and big government. We will stand beside them and help them tell their stories.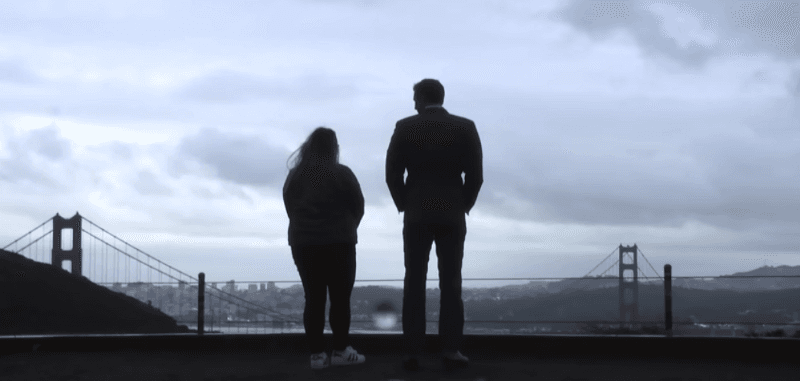 Me and our brave Facebook insider in San Francisco, California.
Are you a victim of bias and abuse like Enrique Tarrio?
Enrique is the face of our latest Project Veritas investigation. His bank account from Chase Bank was suspended without straight reason and from the results of our latest investigation, it appears that he may have been banned for political motivations.
I met Enrique for lunch this year at CPAC in February. A businessman, Enrique was exasperated about his account's closure and told me and my journalists that he believes he was removed because he is a conservative.
Veritas had already exposed Twitter and Facebook for similar misgivings — could banks be doing the same?
After our meeting, Enrique worked hand-in-hand with one of our undercover journalists who is expertly trained to handle classified information and verify stories like Enrique's. Our journalist trained Enrique how to use undercover equipment and coached him through the steps to corroborate his own story.
Together, they did it.
Here's the exchange that they captured that ignited a wave of media coverage:
JOURNALIST: Really? Okay… So I mean on my end I'm talking about people like Trump supporters for instance. The MAGA, whatever — make, whatever the hell they, those types of people, I mean individuals –
CHASE: Right, right. I know what you mean, but like I said the call is being recorded, monitored, so I can't get too political. And say I don't support these people, or this, but you know, any kind of business entity, people like that, no moral character or anything like that, the bank usually doesn't get involved with that."
With our help, Enrique's story was heard far and wide. The term "debanking" entered the public lexicon.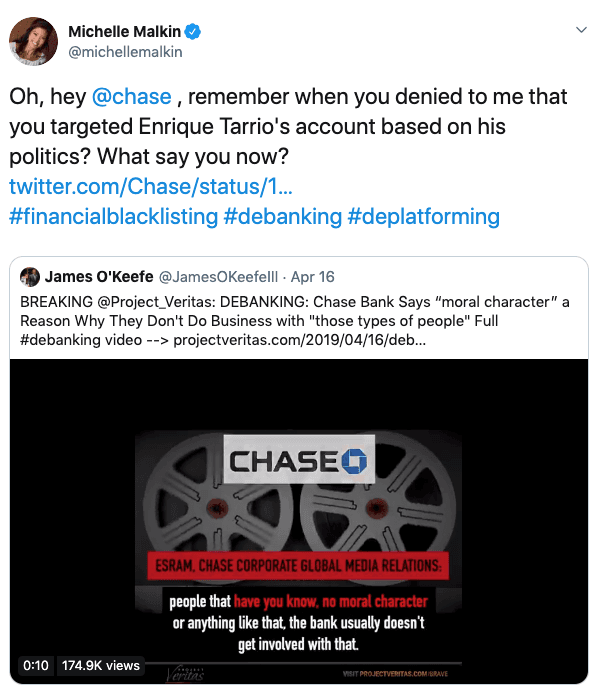 In fact, other grassroots individuals have reached out to Veritas to share their similar experiences with banks like Chase.
This is how we change the world and this is how we make an impact.
Enrique is not alone, of course. This year we released an investigation into Facebook which was brought to us by another brave insider. Her documents showed how Facebook deliberately is "deboosting" conservative livestreams and throttling center-right content.
Enrique and our Facebook insider are incredibly brave. They've risked it all to show you the truth.
If you are on the inside of any organization and have witnessed fraud, corruption, or abuse please reach out to Project Veritas right away.
Our journalists will work with you, we will train you, and we will help you tell your story. Your story deserves to be heard.
It won't be easy, but we will stand beside you and together will make a difference.
Be BRAVE: Contact us securely here: https://www.projectveritas.com/brave/
James O'Keefe
About Project Veritas
Project Veritas is a non-profit investigative news organization conducting undercover reporting. Project Veritas investigates and exposes corruption, dishonesty, self-dealing, waste, fraud, and other misconduct in both public and private institutions to achieve a more ethical and transparent society. Project Veritas is a registered 501(c)(3) organization.