UPDATE: New York Times FILES MOTION FOR STAY of Discovery Process in Project Veritas' Defamation Case as Court Battle Continues
Key Points
Project Veritas learned last week that The New York Times has filed an unusual 16-page Motion for Stay of Discovery in Project Veritas' ongoing defamation case against the Old Gray Lady.

After achieving a historic victory in which Veritas made it past The Times' Motion to Dismiss in New York State Supreme Court, discovery and under-oath depositions were set to begin soon.

It was also within this historic legal ruling that The Times' reporters and named defendants, Maggie Astor and Tiffany Hsu, were called "deceptive" and accused of practicing "misinformation." The Times, however, now seeks to delay the process of discovery by any means necessary.

Project Veritas Founder and CEO, James O'Keefe, pointed out the hypocrisy in a recorded response, noting the irony of how an organization built on asking questions has now pivoted to evading them. Veritas has won every case it has litigated and welcomes the idea of total transparency -- an ideal The New York Times no longer seems to embrace.

The Times would have Veritas wait years to initiate discovery, by embracing the concept of constant appeals and legal roadblocks in the name of fairness, denying the chance to prove actual malice.

The "Paper of Record" claims a delay of the discovery process does neither party in the case harm, and in the filing stated, "There is no claim that Project Veritas is incurring ongoing damages." The Times forgets the millions of readers to which its original article was disseminated -- which in turn has yet to be corrected.

The Times also claims the denial of a stay "will prejudice" the newspaper by making it impossible to seek relief on appeal, due to the "burden" of discovery.

After the filming of the video below took place, a State Supreme Court Discovery Judge issued an order delaying discovery until this most recent motion can be ruled upon. Veritas is filing its opposition later this month.

 O'Keefe concluded: "This motion is the manifestation of double think in 1984."
[WESTCHESTER, N.Y. – Jun. 1, 2021] Project Veritas Founder and CEO James O'Keefe issued a video response regarding the organization's ongoing defamation lawsuit against The New York Times today, after the Old Gray Lady asked the court to delay the discovery process by filing a Motion to Stay. 
This motion would effectively postpone Veritas' efforts to ascertain the truth of the case, through videotaped under-oath depositions of New York Times employees involved in the matter. Included among them are reporters Maggie Astor and Tiffany Hsu.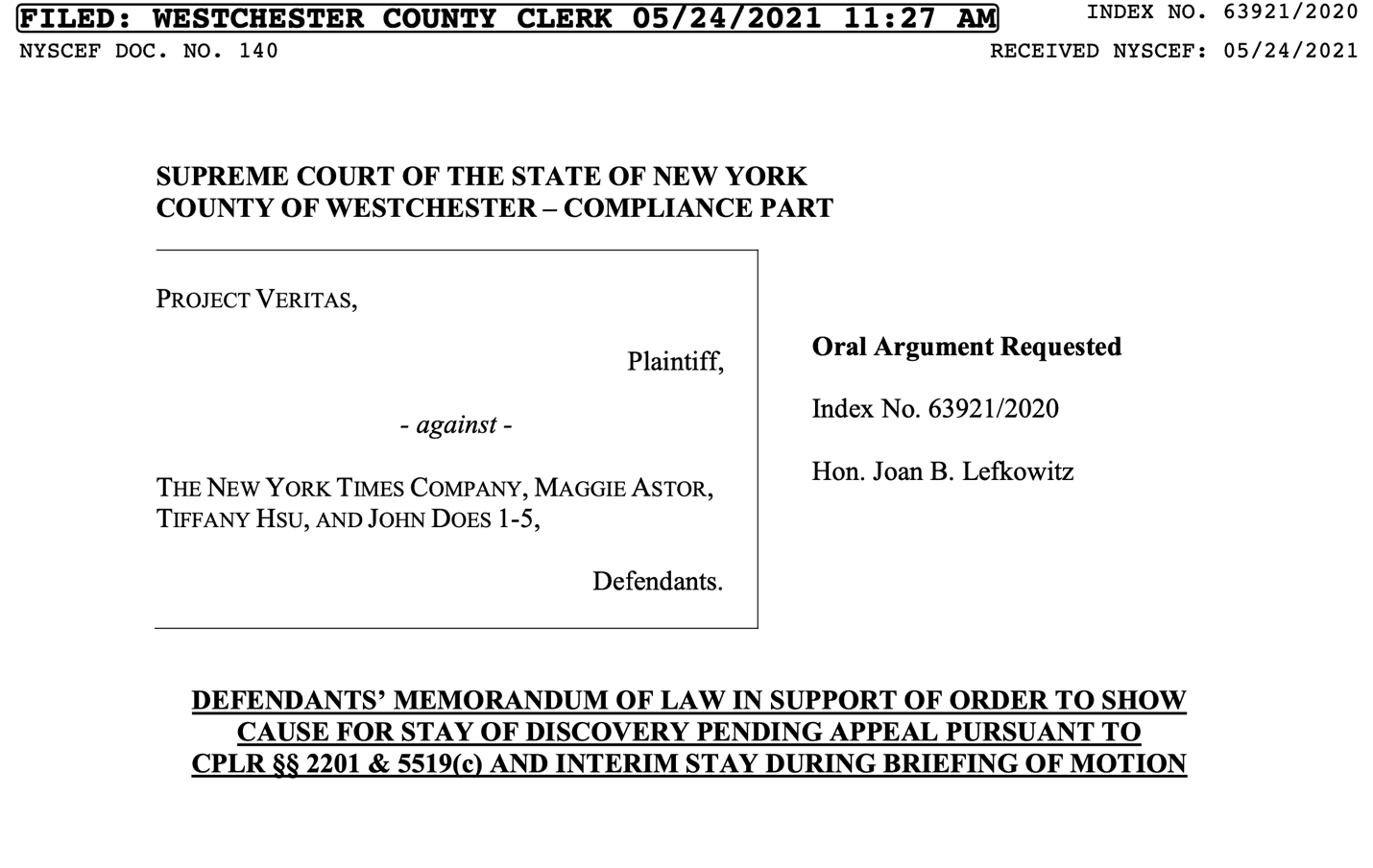 This is not the first major impasse Project Veritas has faced during its ongoing legal battle with The Times. 
After achieving a historic victory by defeating the "Paper of Record's" Motion to Dismiss, the defendants have done everything in their power to delay discovery. 
As part of its 16-page motion and memorandum, The Times argued, "there is no claim that Project Veritas is incurring ongoing damages."

The New York Times omits, however, the many millions of readers to which the article in question was disseminated -- through third parties such as Facebook and other Big Tech entities -- while also failing to point out that the original piece has yet to be updated. 
The Times continues to make these types of arguments, even after The New York State Supreme Court called them out for claiming their article was merely opinion while serving it up to the public as fact.
The newspaper also argued, "denial of a stay here will prejudice" the New York Times by, "effectively making it impossible for them to receive the full relief they seek on appeal, namely dismissal, without the substantial cost and burden of discovery."
This argument conflicts with New York state's anti-SLAPP law and how it permits discovery in response to an anti-SLAPP Motion to Dismiss, "limited to the issues raised in the Motion to Dismiss." Meaning that even if Project Veritas had not summarily won on the Times' Motion to Dismiss, Project Veritas would have moved forward with depositions, and other discovery anyway, in opposition to the Motion.
Following filming of the video above, a New York State Supreme Court Discovery Judge issued an order temporarily delaying discovery until The Times' motion can be ruled upon. But these frivolous arguments and attempts to delay the inevitable will not stop Project Veritas from exposing the truth. 
Veritas will continue to fight any attempts at delay and plan to file an Opposition to this Motion on June 14, 2021.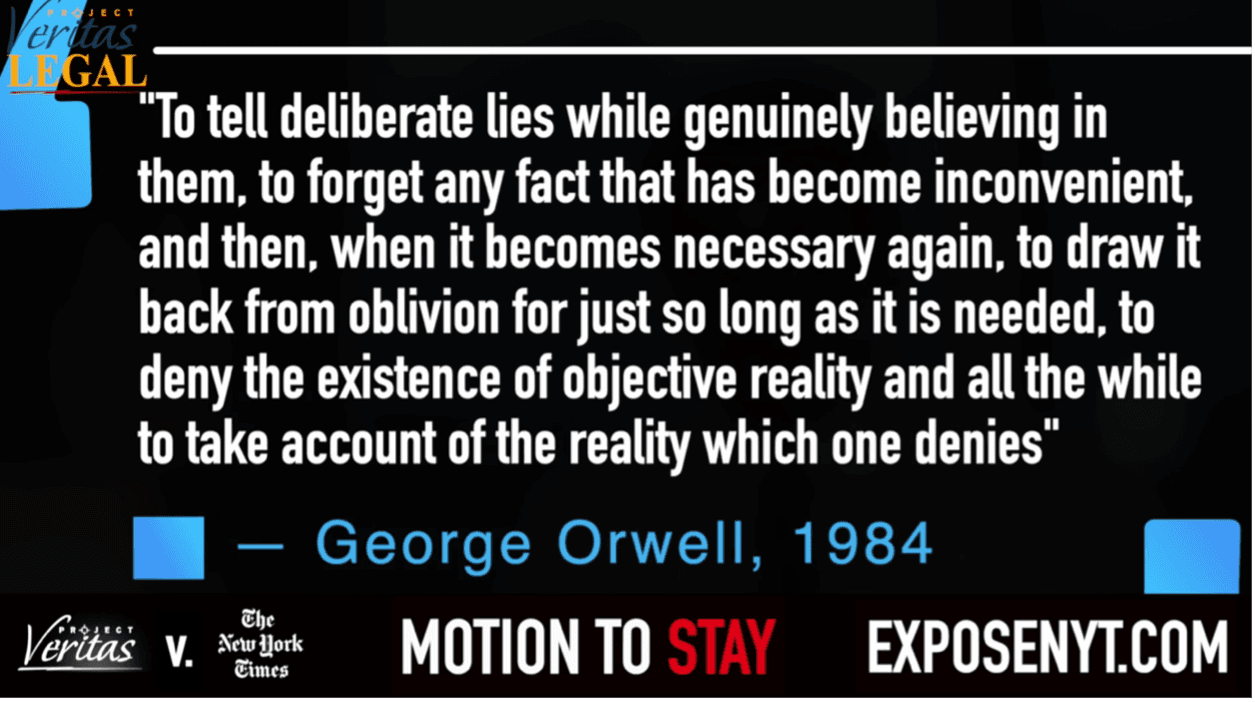 Be Brave. Do Something. Project Veritas encourages anyone who is witnessing corruption, fraud or waste within the media, Big Tech or other public and private institutions of power to send an encrypted message on Signal: 914-653-3110 or email VeritasTips@protonmail.com.
About Project Veritas
Project Veritas is a non-profit investigative news organization conducting undercover reporting. Project Veritas investigates and exposes corruption, dishonesty, self-dealing, waste, fraud, and other misconduct in both public and private institutions to achieve a more ethical and transparent society. Project Veritas is a registered 501(c)(3) organization.