UPDATE: CNN Files Motion to Dismiss in Defamation Lawsuit Brought by Project Veritas Regarding Removal from Twitter: 'The Ultimate Irony is We Got Suspended for Telling The Truth'
Key Points
CNN filed a Motion to Dismiss the defamation lawsuit brought by Project Veritas against the network after on-air anchor, Ana Cabrera, made false and defamatory statements regarding the circumstances of Veritas' ban from Twitter – claiming the non-profit was thrown off the platform for "promoting misinformation." 

Veritas was, in fact, taken off Twitter for alleged privacy violations after briefly failing to blur out a house number that appeared in the background during an interview with Facebook VP of Integrity Guy Rosen, according to the Big Tech giant.

CNN Business' own reporter, Brian Fung, followed up with Twitter and Project Veritas about the ban and reported that the account had been taken down for privacy violations.

Cabrera originally posted the news to Twitter but contradicted herself and her CNN Business colleague on TV a few days later by falsely claiming the ban was part of a crackdown on misinformation.

In its Motion to Dismiss, CNN stipulated that Veritas was banned for privacy violations but maintains that "to the average viewer, there is no material difference from a reputational standpoint between being banned for 'misinformation' and being banned for posting" truthful, but allegedly prohibited, information.

Meanwhile, CNN's confrontation of an elderly woman that exposed her street address in connection with a story that also exposed her state and county of residence and resulted in the woman being harassed, has been allowed to remain up on Twitter's platform and has not been deemed "harmful" or "disgraceful."

O'Keefe decried the double standard and described the censorship policies being pursued by Facebook and other Big Tech companies as "the most important public policy issue of our time."

CNN also argued Project Veritas misquoted Cabrera and claims she was simply providing context to the viewer.

From the Motion: "Ms. Cabrera and Mr. Stelter were discussing a broader story on the recent social media 'crackdown' of enforcing rules to try to stop the spread of misinformation."

CNN argues Veritas' suspension and the idea of social media companies cracking down on misinformation are two separate stories and trends that no reasonable viewer would connect.

O'Keefe: "Sadly, when you both omit the actual reason of our suspension and in the same breath -- group us with accounts promoting misinformation -- it's hard to see how a viewer might NOT be confused."
[ATLANTA – July 14, 2021] CNN has filed a Motion to Dismiss the defamation lawsuit brought against it by Project Veritas after network anchor, Ana Cabrera, falsely stated that Veritas had been thrown off Twitter as part of a crackdown on "misinformation."
In February, Cabrera tweeted that the Project Veritas account on Twitter had been booted off the platform for supposed privacy violations regarding a failure to blur a house number during an interview with Facebook's VP of Integrity, Guy Rosen.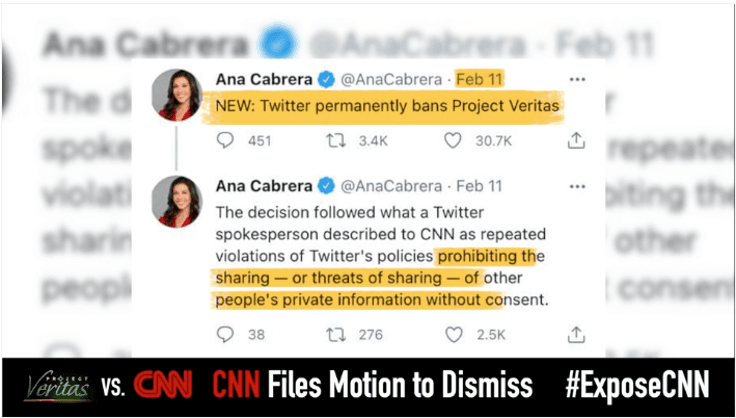 Days later, however, Cabrera appeared on CNN and stated the reasoning behind the ban had to do with a "crackdown" on the "spread of misinformation." 
This despite her own prior tweet and despite her own colleague at CNN Business, Brian Fung, reporting that privacy was the main issue in dispute.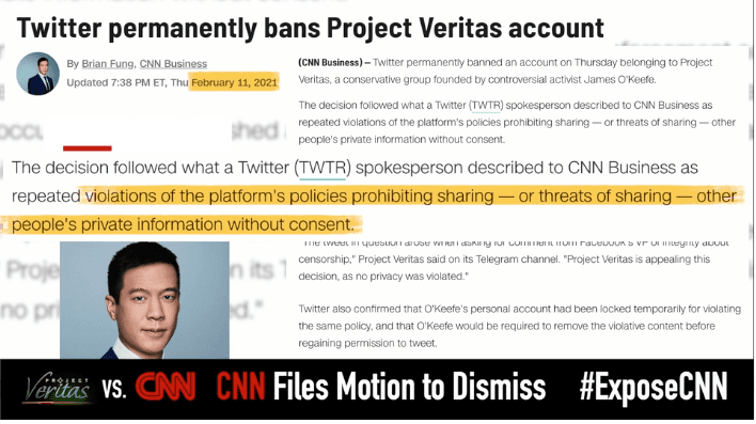 In the Motion to Dismiss, CNN argues that to the average viewer, there is no material difference from a reputational standpoint between being banned for "misinformation" and being banned for posting prohibited information.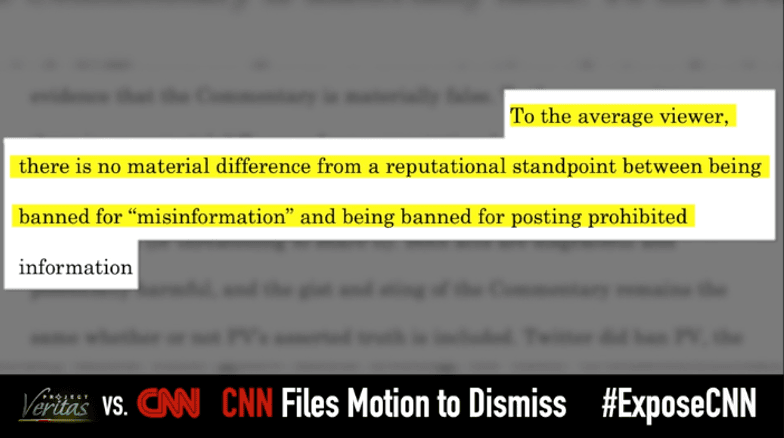 CNN is arguing that being tagged as "misinformation" and being tagged for briefly failing to blur a house number are the same thing in the eyes of the average news viewer and, therefore, no harm was caused to Veritas and the case should be dismissed. 
The network, whose tagline is "The Most Trusted Name in News," also claimed Cabrera was misquoted and was simply trying to provide context to a "broader story."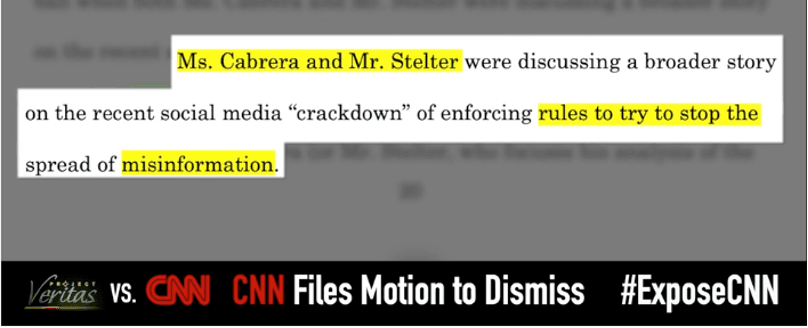 "[Twitter] suspended us for telling the truth," O'Keefe said. "A truth which CNN admits in this Motion was 'prohibited' for perhaps being a bit too true. Where are you CNN? Why aren't you confronting Facebook vice presidents about their censorship? Why aren't you reporting news the public has a right to know?" 
He concluded, "We're suing because CNN defamed us by saying our suspension was the result of a crackdown on 'purveyors' of misinformation. You made that up. Now you're having to answer for what you made up. So, do you still think CNN has earned a Motion to Dismiss? Well, I guess we'll find out. Stay tuned." 
About Project Veritas
Project Veritas is a non-profit investigative news organization conducting undercover reporting. Project Veritas investigates and exposes corruption, dishonesty, self-dealing, waste, fraud, and other misconduct in both public and private institutions to achieve a more ethical and transparent society. Project Veritas is a registered 501(c)(3) organization.