UNC Administrator Mocks Law Protecting Women and Children
North Carolina House Bill 2, commonly known as HB2 or the "bathroom bill" has been the focus of widespread controversy, both because of what the bill enforces and how individuals have chosen to respond to it. The bill bans people from using restrooms outside of their biological sex, which some claim is representative of a discriminatory practice towards gays and transgendered people.
Proponents of HB2 have argued that the bill, which would prevent a transgender male and any man from entering the women's bathroom protects women and children from sexual predators and sexual abuse. However, opponents of HB2 have argued that the well being of women and children is not dependent on the bathroom bill.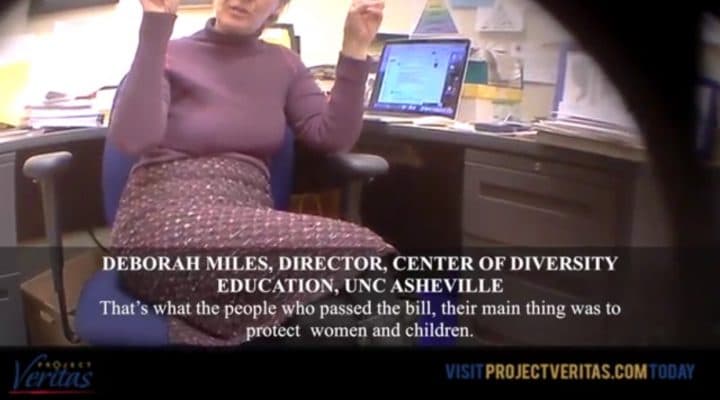 When undercover Project Veritas journalists visited UNC Ashville, they encountered administrators who seemed to turn a blind eye to the law and its purpose, even when they were hearing predator-like confessions from a reporter posing as an undercover sex offender. Some administrators even mocked the idea of the law's ability to protect women and children. In a condescending tone with her fingers making quotation marks, Deborah Miles, the Director for the Center of Diversity Education at UNC Ashville said, "that's what people who passed the bill, their main thing was to protect women and children."
Despite the opponents of HB2 mocking the welfare of women and children in the women's bathroom in an attempt to promote transgender rights, there have been many documented cases of transgender men assaulting women and children, particularly in bathrooms. Unfortunately, many women and children have been abused in bathrooms by men and transgendered individuals, and this latest video exposes how eliminating HB2 could create a dangerous loophole that threatens the safety and well being of both sexes. Alarmingly, it is becoming evident that we have reached a point in time where striving to be politically correct and pluralistic is more of a priority for school officials than promoting and enforcing safety and security on campus.
About Project Veritas
Project Veritas is a non-profit investigative news organization conducting undercover reporting. Project Veritas investigates and exposes corruption, dishonesty, self-dealing, waste, fraud, and other misconduct in both public and private institutions to achieve a more ethical and transparent society. Project Veritas is a registered 501(c)(3) organization.