Project Veritas Responds to Michigan Education Association Statement
On Tuesday, May 15th, 2018 the Michigan Education Association issued a statement regarding our undercover video that showed their union official neglecting to report physical abuse of a student.
Project Veritas has issued the following statement in response:
"The undercover journalist complied fully with the letter and spirit of the law; the Michigan Education Association's allegation is plainly an attempt to shift attention away from their misconduct. Instead of avoiding reality by attacking us, MEA should address their official who insinuated that reporting an incident of suspected injury or abuse of a child was a matter of choice as opposed to a mandatory requirement."
See the MEA's statement here: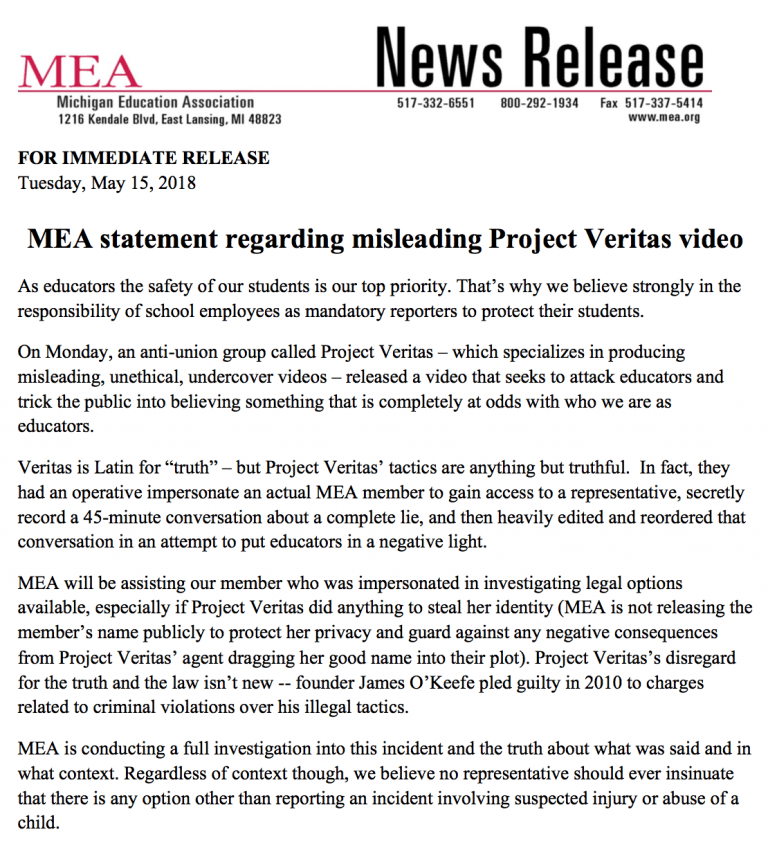 About Project Veritas
Project Veritas is a non-profit investigative news organization conducting undercover reporting. Project Veritas investigates and exposes corruption, dishonesty, self-dealing, waste, fraud, and other misconduct in both public and private institutions to achieve a more ethical and transparent society. Project Veritas is a registered 501(c)(3) organization.