PBS Principal Counsel Michael Beller Fired After Project Veritas Video Revealed His Violent and Radical Agenda Against Trump Supporters, PBS CEO Paula Kerger Issues Statement to Staff
[WASHINGTON, D.C. – Jan. 12, 2021] PBS released a statement via Twitter today in response to Project Veritas' video exposing PBS Principal Counsel Michael Beller saying that he has been removed from his duties.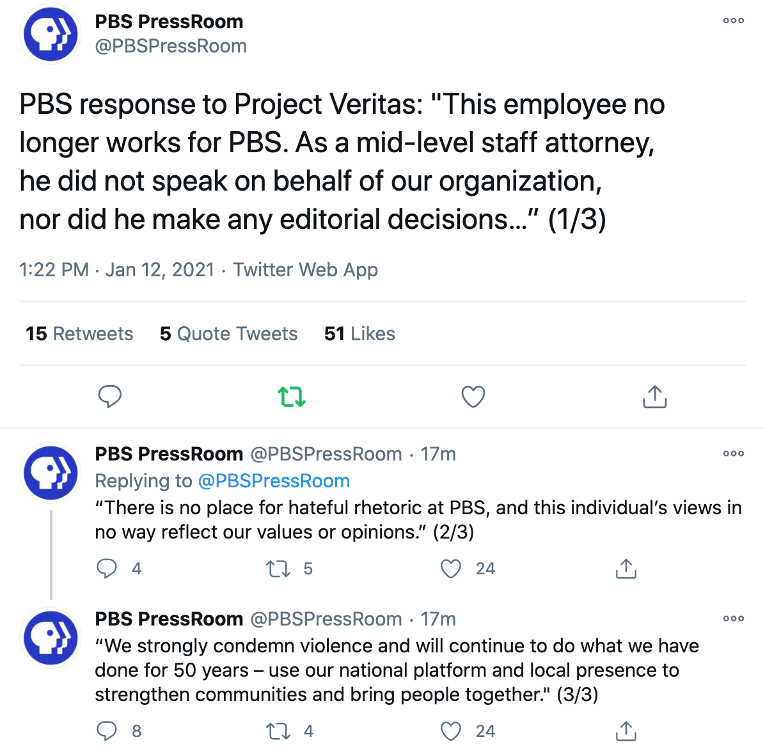 PBS CEO Paula Kerger made the following statement to her staff:
Dear Colleagues:

We recently learned that a staff member in PBS's legal department was targeted by Project Veritas, a far-right activist group that is known for producing deceptive videos. A video of that individual's personal interaction with an undercover member of Project Veritas was released today.

In response, we issued the following statement:

"This employee no longer works for PBS. As a mid-level staff attorney, he did not speak on behalf of our organization, nor did he make any editorial decisions. There is no place for hateful rhetoric at PBS, and this individual's views in no way reflect our values or opinions. We strongly condemn violence and will continue to do what we have done for 50 years – use our national platform and local presence to strengthen communities and bring people together."
Kerger did not elaborate nor present any evidence as to why she believes Project Veritas
is a "far-right" organization that produces "deceptive videos."
She also made it a point to emphasize Beller's ranking at PBS, begging the question of whether or not this is an attempt to downplay his role within the organization.
About Project Veritas
Project Veritas is a non-profit investigative news organization conducting undercover reporting. Project Veritas investigates and exposes corruption, dishonesty, self-dealing, waste, fraud, and other misconduct in both public and private institutions to achieve a more ethical and transparent society. Project Veritas is a registered 501(c)(3) organization.