1.    NH Attorney General's Prosecutorial Obsession with Project Veritas
Project Veritas conducted an undercover investigation in New Hampshire on Jan. 10, 2012, the day of the presidential primary.  Veritas reporters present asked various election officials if they had specific names on the voter registration rolls.
Invariably, the election officials offered the Veritas reporter the ballot for that person, but the reporter made an excuse about not having an ID and left the polling place. The person whose name was inquired about was deceased, and New Hampshire's governor had previously vetoed a bill requiring voter IDs.
The day after Project Veritas released the video of the undercover investigation of "zombie voting" in New Hampshire, probation officer Pat Hattersley and his supervisor confronted James O'Keefe at his parents' home in New Jersey on the chance he had violated his probation. He had not.
In May of 2012, O'Keefe was tipped off an investigator with the New Hampshire Attorney General's office planned to serve him with a criminal grand jury subpoena if he gave a scheduled speech in the state. O'Keefe instead used Skype to deliver his speech.
New Hampshire Associate Attorney General Richard Head got involved after calls for prosecution of the undercover investigation. Head's source of information was then challenged and he backed off the case. About a year later, O'Keefe confronted Head and asked him to sign his book Breakthrough. In June 2012, the New Hampshire legislature overrode the governor's veto of the proposed voter ID
legislation.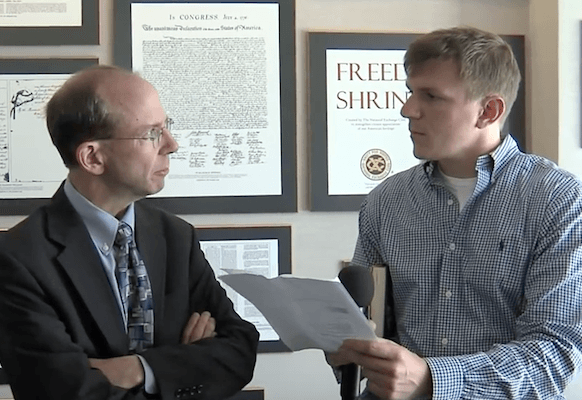 In 2016, Project Veritas again investigated voter fraud in the New Hampshire presidential primary election. Project Veritas investigators found easy ways to circumvent the New Hampshire voter ID law. In one example, staffers for Bernie Sanders' presidential campaign were registering to vote using the campaign's address.
In 2019, a Veritas undercover journalist discovered a New Hampshire resident who had voted twice in the 2018 General Election, once in New Hampshire, and once in Florida. Project Veritas released the investigation and delivered the information to the statehouse to inform the offices of the Governor and Secretary of State. After which, O'Keefe received a call asking if he would show the video to the Attorney General's representative. He complied.
O'Keefe and Project Veritas executive producer Joe Halderman met with criminal investigators Dick Tracy and Robert Freitas and showed them the video of a New Hampshire resident admitting to having voted twice in the 2018 General Election. Afterward, Tracy and Freitas handed O'Keefe and Halderman criminal subpoenas to appear before a Hillsborough County Grand Jury conducting an investigation into Project Veritas operations.
Later it was revealed, the Attorney General's office had an open investigation stemming from the 2016 Project Veritas investigation, and its undercover recordings. After an intense intervention by Project Veritas attorneys with the Attorney General, the criminal grand jury subpoenas were withdrawn, and the state's Attorney General adopted Project Veritas' interpretation of the New Hampshire recording laws.
2.    New York Attorney General Inquiry
In late November 2017, Project Veritas received a threatening letter from the New York Attorney General, which indicated the office had reviewed all of charitable registration forms within the state, and demanded a reply within 15 days.
California and New Jersey have also launched similar investigations at approximately the same time, suggesting it does not appear to be original staff work, but rather, a response to an undisclosed outside and well-organized outsider.
3.    California Attorney General

On Dec. 28, 2017, the California Attorney General sent a notice of a correspondence audit requesting documents.  He gave Project Veritas 30 days to provide thousands of records dating back four years. The letter came on the heels of the New York letter and appeared as a a concerted effort to attack Project Veritas.
Project Veritas produced thousands of pages of documents, several letters and emails from attorneys costing thousands of dollars and many staff-hours. To date, there has been no reply.
4.    New Jersey Attorney General
In October 2018, we received a letter from the office of the New Jersey Attorney General demanding a meeting Dec. 4, 2018, to discuss "concerns" that Project Veritas might have "engaged in conduct that violated the state's consumer fraud act.." and other statutes.
After updating and correcting some incomplete entries on previous annual registration forms, Project Veritas agreed to pay $3,500 to resolve this matter under a consent order.
In discussions between the attorneys it was revealed this was based on a complaint that had been "laying around the office" when they took over from the previous administration. The previous administration had left a year prior to this inquiry.
5.    Lauren Windsor vs Project Veritas Action at the Ohio Elections Commission
In October 2018, Lauren Windsor, a Democracy Partners activist, filed a complaint with the Ohio Elections Commission alleging Project Veritas Action had violated state law by embedding an undercover journalist in the campaign of Senate candidate Ted Strickland.
Project Veritas secured dismissal of the complaint because her complaint was filed after the statute of limitations, and she had no first-hand knowledge of the incident, as required by the law.
6. Texas political consultant Raquel Rodriguez charged with voter fraud
In January 2021, Texas Attorney General Ken Paxton announced the arrest of Rachel Rodriguez for four felonies in response to a Project Veritas release.  She was charged with election fraud, illegal voting, unlawfully assisting people voting by mail, and unlawfully possessing an official ballot.  Rodriguez was the subject of a Project Veritas video in November 2020 in which she bragged about committing ballot harvesting and voter fraud. Rodriguez could face up to 20 years in prison if convicted.
7. Creation of PV Legal
In May 2021, Project Veritas created a legal arm called 'PV Legal' to fight defamation by media outlets.  The creation of PV Legal was memorialized with the release of a music video called, 'Oligarchy.'  The music video is an anthem for everyone who has ever been defamed by the media.  PV Legal will give a voice to those who cannot fight back against media defamation.  Anyone who has been defamed by the media can contact us at: Pvlegal@projectveritas.com
About Project Veritas
Project Veritas is a non-profit investigative news organization conducting undercover reporting. Project Veritas investigates and exposes corruption, dishonesty, self-dealing, waste, fraud, and other misconduct in both public and private institutions to achieve a more ethical and transparent society. Project Veritas is a registered 501(c)(3) organization.