Mich-Based Federal Judge ORDERS Teachers Union Boss, Randi Weingarten, Video Deposed By Project Veritas
Key Points
Project Veritas Turns Table On American Federation Of Teachers, Subpoenas AFT President

Mich. AFT President Admits Lawsuit Was Meant To "In Any Way Possible Stop Project Veritas"

Teachers Union Leaders Boast Effort To "Halt" Veritas Once And For All
[DETROIT– July 22, 2020] The American Federation of Teachers (AFT) National President Randi Weingarten is subpoenaed by Project Veritas (PV) CEO James O'Keefe during his own deposition, according to video footage released today. The video also addresses the judge striking down Weingarten's objection to being video deposed.
"We subpoenaed Randi because, among other reasons, in the discovery process we
learned of links between her organization and Lauren Windsor of Democracy
Partners. As you may remember, Lauren admitted in her deposition against us
that she had conspired with others who were attacking us in court –None of
which have succeeded to date," said O'Keefe.
AFT sought to limit if not block Project Veritas questions after the subpoena was issued and to prohibit the videotaping of her deposition. 
However, the Magistrate Judge ruled against AFT.
First, Weingarten argued she was not involved and thus Project Veritas was attempting to harass her.  The court disagreed, stating:
"Given these public statements, the Court rejects Weingarten's allegation that defendants could be motivated to depose her only for the purposes of annoyance, oppression or harassment."
"She has asserted her own knowledge of the underlying facts and involvement in this litigation"
Second, Weingarten pleaded with the court to prevent Project Veritas from publishing her videotaped deposition.  The court refused, holding that:
… while PV may seek to publicize the deposition to portray Weingarten in a negative light, "'[g]ood cause' is not established merely by the prospect of negative publicity.'
The court drove home the importance of Weingarten's deposition in denying her request to limit the deposition, stating:
…As the President of AFT National, Weingarten is an elected leader.

…this litigation is of strong public interest and has already been the subject of significant media attention.  Thus, the presumption of openness applies.

…On this record, the Court denies her (Weingarten) request to preclude the defendants from videotaping her deposition."
The ongoing legal battle between the organizations has been fueled by the teacher's union and affirmed by multiple public statements from key leadership including Weingarten in a March 2019 press release stating:
"We went to court to pierce Project Veritas' veil and to halt, once and for all, its dirty tricks."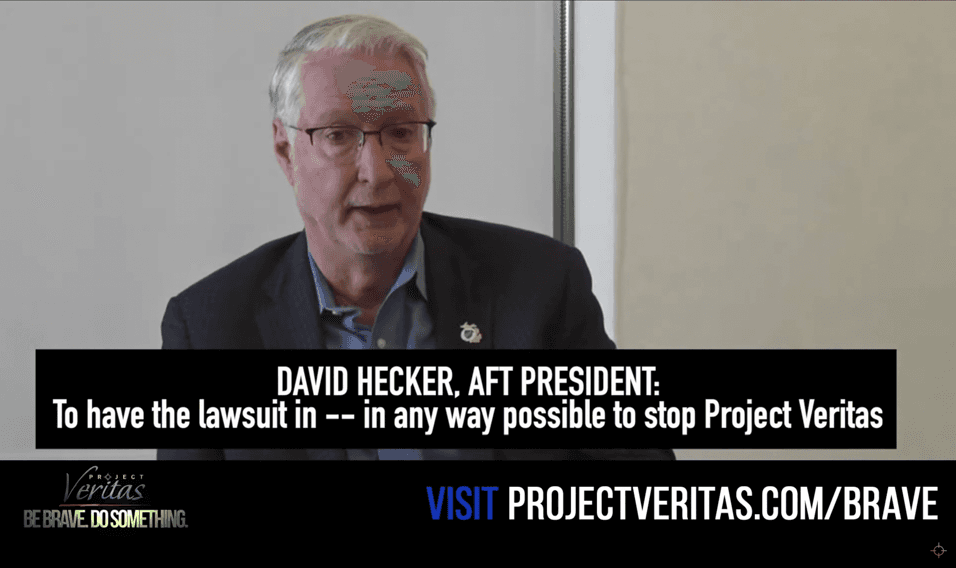 "Her intentions are laughable. At the very least she wants to destroy our organization and at most she wants to undermine the First Amendment" said O'Keefe.
Previously, The American Federation of Teachers-Michigan filed a complaint and temporary
restraining order against Project Veritas, before the investigation was released.
The investigation was released including undercover footage and documents obtained from the American Federation of Teachers Michigan affiliate office in Lake City, which reveals that the union protected a teacher after accusations of sexual misconduct with a seven- or eight-year-old girl arose.
The now-former teacher was never charged and denied the accusations against him and did not lose his teaching certificate.
There is a disregard to whether or not there is any validity in those accusations; sweeping the whole thing under the rug  -- seems to be a very serious story that the public has a right to know about," said O'Keefe.
Johnny Mickles, a Michigan AFT Field Representative revealed in great detail the accusation of "inappropriate behavior in the home," between a teacher and student.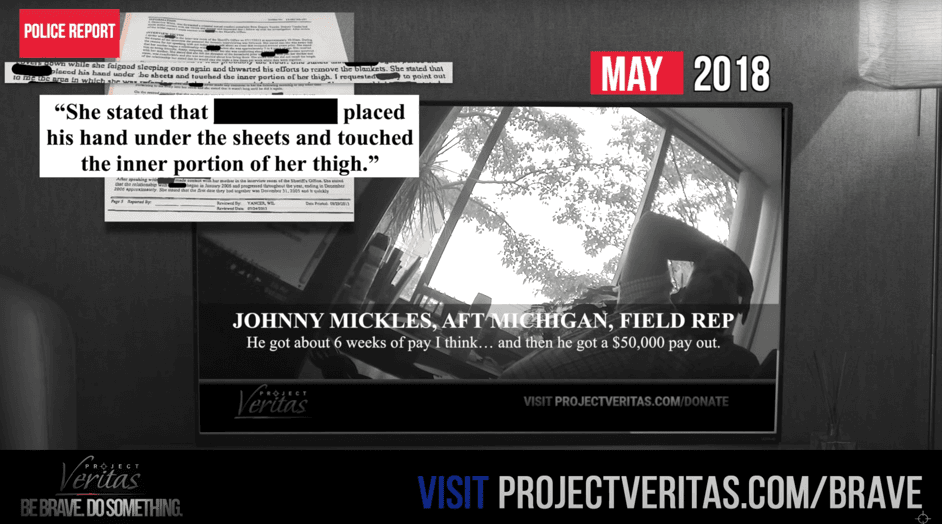 The result being termination, but, "we negotiated a resignation for him…He didn't lose his certification… He got about six weeks of pay I think… and then he got a $50,000 payout."
Redacted documents from the AFT office corroborating the events can be found HERE. The story is still developing.
About Project Veritas
Project Veritas is a non-profit investigative news organization conducting undercover reporting. Project Veritas investigates and exposes corruption, dishonesty, self-dealing, waste, fraud, and other misconduct in both public and private institutions to achieve a more ethical and transparent society. Project Veritas is a registered 501(c)(3) organization.