HIDDEN CAM: MI Union Boss Neglects Mandatory Reporting of Child Abuse: "I don't want you to get investigated"
Nick Nugent, Executive Director of Michigan Education Association's South Oakland Districts Association Office

Nugent: "This is a tough one because, if we report it you're gonna get investigated. And I don't want you to get investigated."

Despite Mandatory Reporting Law, Nugent Says "It is truly up to" the Teacher to Report Abuse

MEA Policy: "Failure to report by a Mandated Reporter could result in civil and/or criminal penalties"

Nugent Advises Violent Teacher to "take some time off" Because Student's Wounds "will heal"

Nugent Says Teachers Have Gotten Away With Abuse Before: "I've had where teachers have pushed kids and pushed them down and it hasn't come out"
Michigan) Project Veritas has released more undercover footage from inside teachers union offices. The video features Nick Nugent, Executive Director of the South Oakland Districts Association for the Michigan Education Association, apparently violating Michigan Child Protection Law regarding mandated reporting.
On April 24th 2018 at Nugent's office in Lathrup Village, Michigan, a Project Veritas undercover journalist posed as a MEA member who pushed a student down in class, knocking the student's head against the edge of the board. The MEA official explained the union's position to protect the member who abused a student:
"This is a tough one because, if we report it you're gonna get investigated. And I don't want you to get investigated."
Nugent then advises the teacher to "wait it out" and "take some time off" because "the longer the time goes on, the [student's wound] will heal."
Later in the meeting, Nugent explains that the "worst-case scenario" for the teacher would be an investigation that would bring the teacher up on tenure charges. The process, Nugent explains, would involve a settlement agreement the union would help negotiate:
"With that you do what we call a settlement agreement. You choose to resign, and they will pay you out a certain amount of money… The soonest they would get a hearing is probably October, November. And they would have to continue to pay your health care."
Nugent states his belief that if they were to report the incident, "they're probably gonna put you on admin leave… And you get paid during that time, but ultimately, I'm worried they would take your teacher tenure."
After the Project Veritas journalist further describes how badly the student was hurt, Nugent said "It is truly up to" the teacher on whether or not to report the incident, despite the union's policy on mandatory reporting of child abuse.
Nugent also describes past incidents in the districts he manages where teachers got away with physically abusing students:
"I've had where teachers have pushed kids and pushed them down and it hasn't come out… I've had it where, like I had a coach one time, and he's a teacher too, you know push a kid, I mean push him down on the ground. It was reported, and then he ended up with a six-day suspension."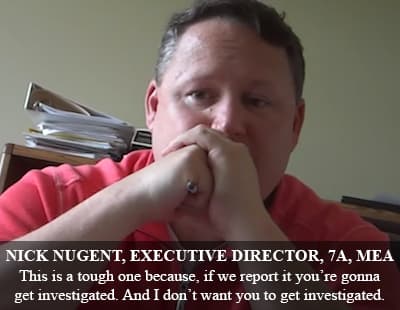 In a separate exchange, Nugent admits that because the incident between the teacher and student was not accidental, that the teacher is technically a mandatory reporter. A flier given to our undercover journalist by Nugent reads that "Mandated reporters are always required to report suspected abuse… teachers… are mandated reporters."
In spite of this, Nugent again tells the teacher, on whether to report, "that's your decision. I can't make that decision for you." He adds the union's backing of the teacher electing not to report child abuse, "Either way you go you're supported by your association."
This is the second undercover video report Project Veritas has released on Michigan teachers unions. Last week, Project Veritas released undercover footage and documents from the Lake City Area Schools affiliate of the American Federation of Teachers Michigan chapter. That report exposed that the union negotiated a $50,000 payout for a teacher who was accused of sexual misconduct with a "seven- or eight-" year-old girl as part of his resignation.
This is part of a larger nation-wide investigation by Project Veritas into teachers unions. Previous videos exposed two New Jersey Education Association presidents admitting they would "bend the truth" and protect abusive teachers. Both union presidents – Dr. David Perry of Hamilton, NJ and Kathleen Valencia of Union City, NJ – were suspended by the school and resigned from the union. The videos led to bipartisan-supported calls for legislative hearings into the conduct of the NJEA.
About Project Veritas
Project Veritas is a non-profit investigative news organization conducting undercover reporting. Project Veritas investigates and exposes corruption, dishonesty, self-dealing, waste, fraud, and other misconduct in both public and private institutions to achieve a more ethical and transparent society. Project Veritas is a registered 501(c)(3) organization.