Lie #5: James O'Keefe is a felon, broke into the office of, bugged, wiretapped or attempted to wiretap phones of U.S. Sen. Mary Landrieu
READ THE FULL FACTUAL BASIS HERE
Federal prosecutors committed severe breaches of professional ethics and may have broken the law while handling the case of James O'Keefe's undercover investigation into how staffers dealt with incoming phone calls in Sen. Mary Landrieu's New Orleans office. On Jan. 25, 2010, O'Keefe and three other men investigating whether Landrieu's New Orleans office intentionally avoided answering phones were arrested.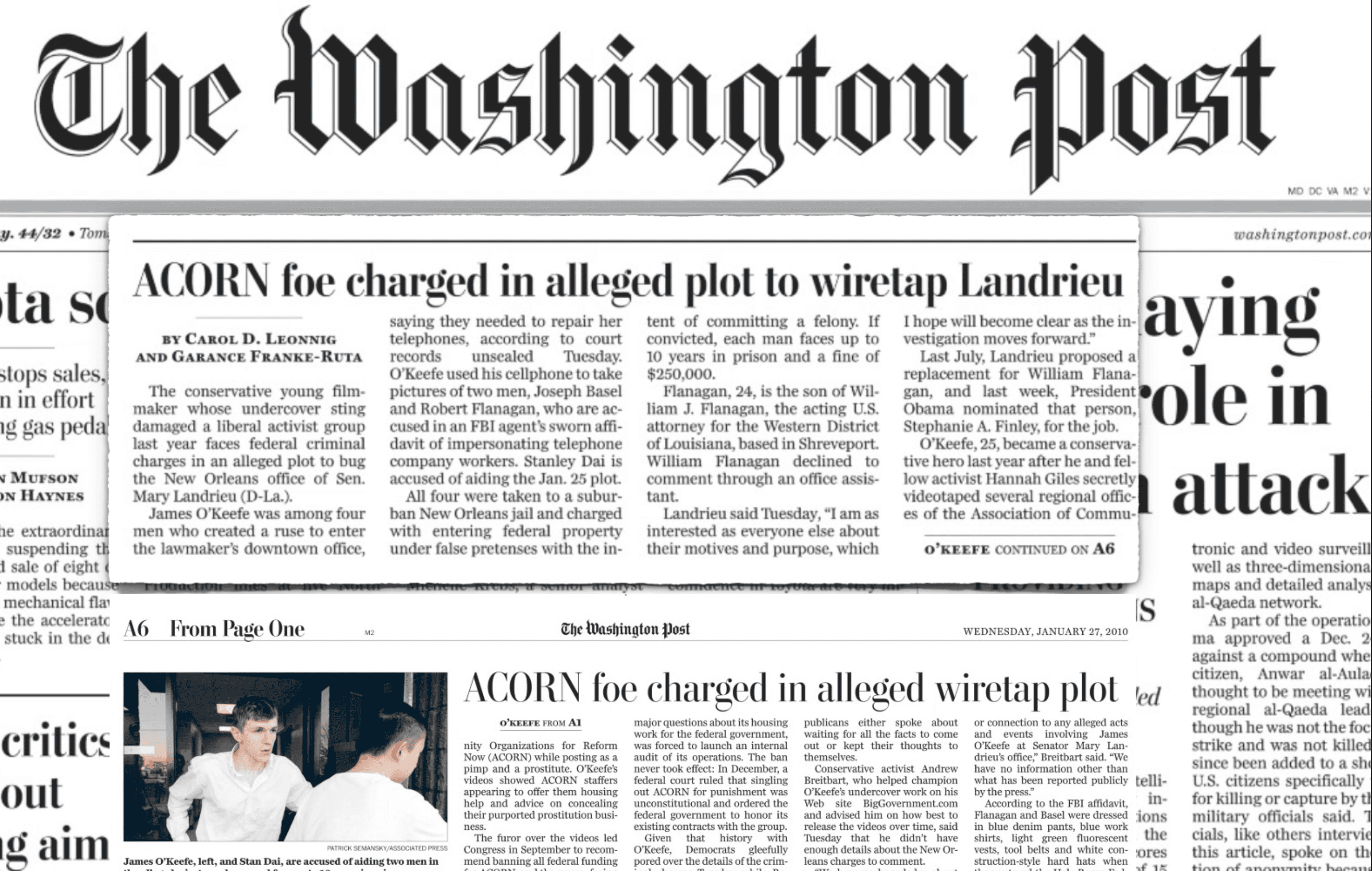 While two men dressed in hard hats and reflector vests inquired about the phones with office staffers, O'Keefe stood back in the reception area with a video camera disguised to look like a cellphone or digital music player.
Because the investigation took place in the city's Hale Boggs Federal Building, the investigation and prosecution were directed by the Justice Department's local U.S. Attorney's office, based in New Orleans, but officially named the Eastern District of Louisiana.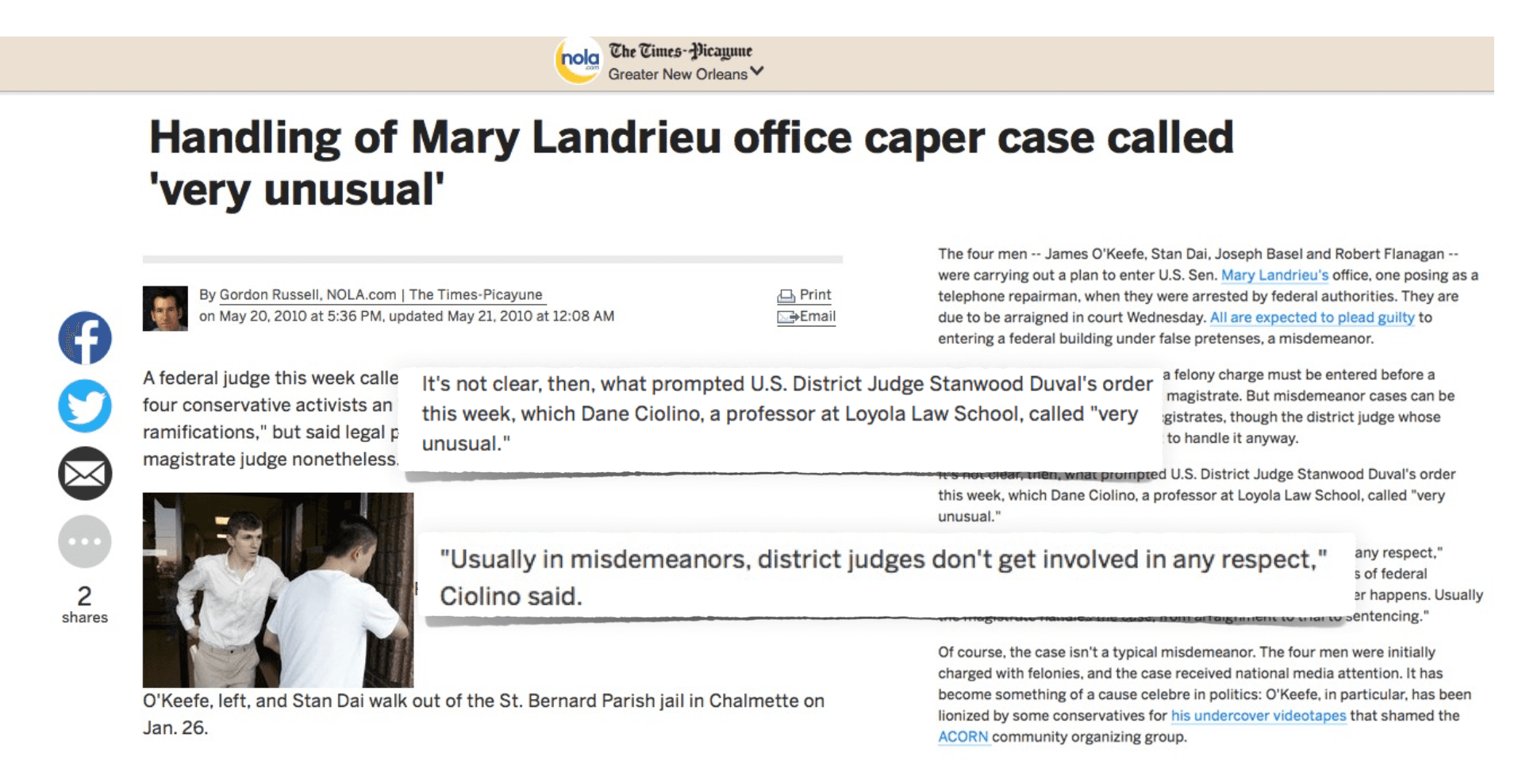 O'Keefe plead guilty to a misdemeanor resulting in three-years probation, a $1,500 fine, and 100 hours of community service. Subsequently, O'Keefe said that he regrets the plea, which continues to be twisted by reporters. Here is the critical paragraph of the plea agreement he signed with the Justice Department:
"In this case, further investigation did not uncover evidence that the defendants intended to commit any felony after entry by false pretenses despite their initial statements to the staff of the Senatorial office and GSA requesting access to the central phone system. Instead, the Government's evidence would show that the defendants misrepresented themselves and their purpose for gaining access to the central phone system to orchestrate a conversation about phone calls to the Senator's staff and capture the conversation on video, not to actually tamper with the phone system, or to commit any other felony."
A prominent factor leading O'Keefe to settle was the memory card holding the footage—establishing he was recording the other two men as part of an undercover journalistic scheme—was blank when the Justice Department returned his video camera.
"It seemed to me an enormous overreach to what happened," he said. "Soon after the first couple of days, the prosecutors knew this was not any terrorist activity, and they then knew it was a politically-related matter having to do with Senator Landrieu."
The incident was less than a week after Massachusetts Republican Scott Brown was elected to replace Sen. Edward Kennedy, becoming the 40th vote Senate Republicans needed to block bills from coming to the Senate floor.
Landrieu ran as a conservative Democrat, and her constituents opposed to President Barack Obama's Patient Protection and Affordable Care Act, or Obamacare, were complaining they could not get through to her office staff to give their opinion.
Michael Madigan, O'Keefe's attorney and a former Federal Prosecutor, said he was shocked that federal prosecutors pursued the four investigative reporters once they realized the true nature of the case and saying that "It seemed to me an enormous overreach to what happened."
"Soon after the first couple of days, the prosecutors knew this was not any terrorist activity and they then knew it was a politically related matter having to do with Senator Landrieu," said Madigan. "There was no criminal intent. There was no effort to commit a felony—no evidence whatsoever."
The misconduct in this case was consistent with similar breaches by the New Orleans U.S. Attorney Letten's office. In 2012, Letten, who at the time was the country's longest-serving U.S. Attorney, resigned his position, and two of his deputies also left the office under fire.
Madigan said that privileged client-attorney communications leaked to reporters—included information that was only known by federal prosecutors. He also requested that Mann investigate the source and circumstances of the leaks, but no such investigation occurred.
NOLA.com is the online site for both the New Orleans Times-Picayune and the New Orleans Advocate. The principal misconduct was the posting of comments on NOLA.com, which disparaged defendants in cases handled by Letten's office, in addition to confidential information from cases dealt with by Letten's office, by federal prosecutors using pseudonyms.
Jan Mann, who served as Letten's first assistant, along with her husband Jim Mann,
who led the office's financial crimes unit, both retired from the Justice Department in 2012. Soon afterward, the former first assistant resigned from the federal bar.
In 2016, Mann also accepted a transition to "Disability Inactive Statue," which ended her law career in Louisiana and created a safe harbor for her clients, who would have relied on her advice.
Sal Perricone, also retired from the Justice Department and resigned from the federal bar in 2012, but he attempted to continue practicing law in Louisiana. In 2018, the Louisiana Supreme Court formally disbarred Perricone, despite his attorney's pleading that he struggled with a "mental disability" that kept him from knowing what he was doing was misconduct.
In its ruling, the court wrote:
"Respondent's own testimony reveals he was aware that he should not post these comments, yet he decided to do so anyway. Clearly, any mental disability from which (the) respondent suffered did not prevent him from knowing his actions were wrong."
Given his admitted inability to distinguish between right and wrong, the state's high court ruled that disbarment was the "only appropriate sanction."
Two days, after the U.S. Marshals arrested O'Keefe and the other investigators, Perricone, using one of his aliases, legacyusa, posted twice on NOLO.com:
WRONG. You are being to (sic) myopic. Of all he idiots in the Senate, why did they pick Mary. Besides, she's hardly in the office anyway. So why? Sure they should be punished. Throw the book at them. But, why that office?
Then:
I guess morons attract.
Letten announced Feb. 1, 2010, that he was recusing himself from the case without explanation and handed the case to his first assistant, Jan Mann.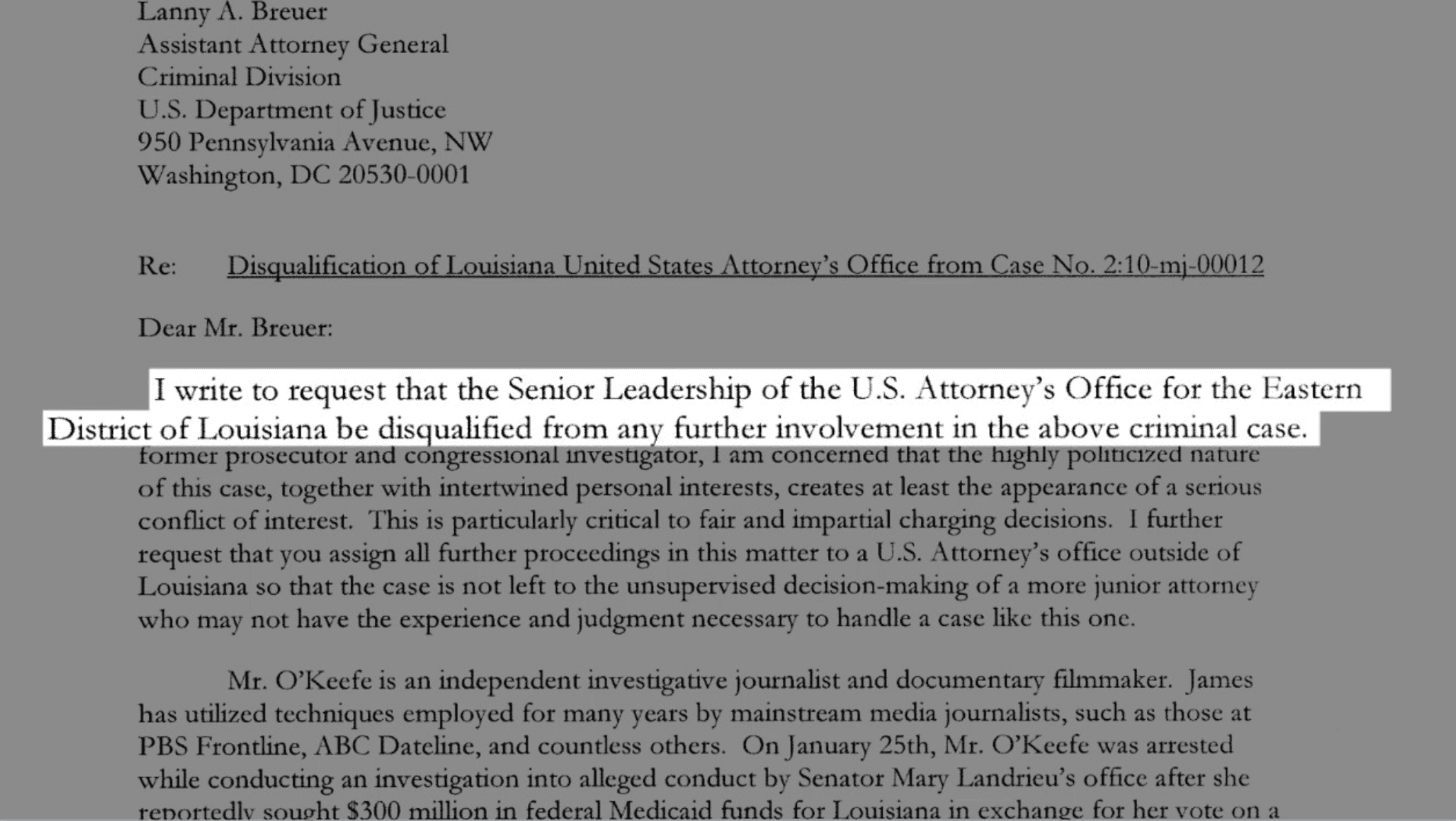 Madigan said although Letten recused himself, his team of prosecutors remained in place and the lead prosecutor, Mann, was more connected to Landrieu than Letten, because the two women went to school together.
"We looked at what remained of the leadership at that point in time," he said. "We learned quickly on that Landrieu's brother, who I believe his name was Maurice, was part of the leadership of that office with Jan Mann."
O'Keefe's attorney said he requested a change of jurisdiction, but that motion was denied.
At the press conference where Letten announced he was stepping away from supervising the O'Keefe, Mann was asked about the case, and she was quoted by a cable news channel responding that there was no political bias in the prosecution of O'Keefe.
"We don't try cases in the press," Mann said. "The U.S. Attorney's Office is motivated by nothing more than what we believe is to mandate and enforce the existing laws that were put in place to ensure the safety and security of federal buildings."
This is how she and her colleague Perricone tried many of their cases—including thousands of comments on NOLA.com.
Mann using the name: eweman and Perricone used the names: legacyusa, HenryL.Mencken_1951 and dramatis personae, Latin for: characters in the play.
Many observers have also linked Perricone to the alias: campstblue, but while he publicly denied any connection, he admitted to an internal DOJ inquiry it was in fact, him. The most notorious campstblue post was directed toward New Orleans' then-mayor Ray Nagin: "For all of you who have a penchant for firearms and how they work, Ray Nagin lives on Park Island."
There is no evidence Letten was aware of these comments or that he posted comments on his own.
The most consequential example of Mann's and Perricone's online commenting involved the Sept 4, 2005 shootings on New Orleans' Danzinger Bridge. Less than a week after Hurricane Katrina and its subsequent flooding devastated that city.
New Orleans police officers, firing rifles and shotguns, wounded four African-Americans and killed two. The remains of one of the men killed were found in a torched car with its head removed. The head was never found.
Five officers were convicted on various charges Aug. 5, 2011. Still, District Court Judge Kurt Engelhardt vacated the convictions in 2013 and ordered a new trial based on the revelation of federal prosecutors commenting online about the case before, during, and after the trial.
Joining Mann and Perricone in commenting online about the case was another federal prosecutor, Karla Dobinski. Dobinski was sent to New Orleans from Main Justice in Washington to assist the prosecution team.
In the aftermath of the posting scandal, DOJ's Office of Personal Responsibility and Atlanta U.S. Attorney John Horn, tasked with investigating the misconduct in New Orleans, conspired to withhold Dobinski's name from the public.
Dobinski's misconduct was especially egregious because she was the so-called "taint team leader" assigned to the case. It was her job to make sure confidential or privileged information about the defendants held by the Justice Department did not become public, or taint the due process.
In this trial, there was a unique vulnerability because the officers had already provided information to state grand jurors. Because the state prosecutors did not take the case against the police officers to trial, the grand jury information was under a court seal, similar to the federal protocol. Dobinski who used the alias "Dipsos" or the Greek word for thirst, which is also slang for a drunkard, posted six times on NOLA.com, interacting with people following the case and sitting in on the proceedings. 
In his 129-page ruling, Engelhardt found the federal prosecutors had committed witness coercion and inconsistent testimony. The judge agreed with the police defendants; these postings acted as a bellows for the already burning and hostile public opinion against the officers.
Saturday, July 30, 2011, 00:02:12: crawdaddy, 123ac, all of you - get to court early on Wednesday and then let the rest of us know as much as you can remember about the closing arguments - what was said, what your impressions are..... and if you have any
more recollections of events during the trial please add them to the comments. You are performing a valuable public service!

Friday, July 29, 2011, 13:25:46: 123ac - thanks so much for the details in (the) courtroom -- reach back in your memory and give us more real information from the trial... much appreciated!! will you cover the closings as well???? We hope so!
Engelhardt described the behavior by the federal prosecutors as grotesque misconduct.
After the new trial was ordered, the Justice Department appealed the ruling to preserve its 2011 verdict, but a three-judge panel of the Fifth Circuit of the Court Appeals would not overturn Engelhardt.
Their ruling read in part:
That three supervisory-level prosecutors committed misconduct in connection with the
Danziger Bridge prosecution is beyond dispute. Perricone's comments spanned the entire trial and went directly to the guilt of the defendants, the collective guilt of NOPD, and the relative competence and integrity of defense counsel versus the USAO. Dobinski's comments stirred the pot by encouraging commenters who were familiar with the trial proceedings, one of whom was Perricone, to keep doing a "public service" with their biased reports. Mann's comments, posted during trial sentencing proceedings, displayed partiality toward the prosecution and denigrated the district court and defense counsel in another Danziger Bridge case.
The case broke open the NOLA.com posting scandal involved Letten's prosecution of a rival lawyer, Fred Heebe.
In 2001, both attorneys were in the running for new President George W. Bush's nomination to be the U.S. Attorney for the Eastern District of Louisiana. When Heebe lost out, he established a landfill company called River Birch.
After Heebe was charged as part of an alleged bribery scheme with a wildlife officer, Heebe became intrigued by comments about him and his case that appeared on NOLA.com, and he hired a forensic linguist. In six months, HenryL.Mencken_1951 and eweman posted more than 500 times about Heebe and River Birch.
Because Heebe suspected the posts were coming from inside the local Justice Department office, the forensic linguist ran thousands of court documents through a computer searching for unusual vocabulary he found in the post. In the end, the search left him with either poet Robert Browning or Perricone. Given that Browning died in 1889 and never worked as a lawyer in the United States, Perricone was tagged.
The Justice Department filed a one-page motion with the federal court in March
2013 to drop the charges against Heebe. DOJ made a separate filing to tell the court it would return all of the items it seized when it raided the River Birch offices in 2010.
O'Keefe returned to Louisiana in August 2013 to promote his new book Breakthrough:
Our guerilla war to expose fraud and save democracy. During his time in the state, he briefed reporters on how federal prosecutors mistreated him during his legal proceedings.
One of the people O'Keefe sought out was Letten, who after his resignation from the Justice Department, was hired to be the assistant dean of Tulane University Law School.
In a confrontation between the two men on a sidewalk on the Tulane campus, the assistant law school dean ranted at O'Keefe, while seeming to video record him. At the same time, the Breakthrough author had his own video team—but, unlike Letten, O'Keefe was not backed up by five armed police officers standing behind and beside the former U.S attorney—one of whom with his arms crossed in front of his chest.
"You're a nasty cowardly spud—all of you," Letten yelled at O'Keefe and his team. "You're Hobbits. You are less than I could ever tell you!"
O'Keefe held up his new book and said: see: "You destroyed my evidence. This is a New York Times best-selling book."
Letten grabbed the book out of the author's hands and threw it back at him—while none of the police officers flinched.
O'Keefe picked up the book and turned to Letten: "That's not the first time you threw the book at me."
About Project Veritas
Project Veritas is a non-profit investigative news organization conducting undercover reporting. Project Veritas investigates and exposes corruption, dishonesty, self-dealing, waste, fraud, and other misconduct in both public and private institutions to achieve a more ethical and transparent society. Project Veritas is a registered 501(c)(3) organization.