Lie #4: James O'Keefe was guilty of and settled a lawsuit about misrepresenting/deceptively editing video of San Diego ACORN worker Juan Carlos Vera
Since founding Project Veritas, James O'Keefe has won every defamation lawsuit filed against the organization. Before Project Veritas was created, O'Keefe settled a private lawsuit filed by a San Diego ACORN staffer Juan Carlos Vera.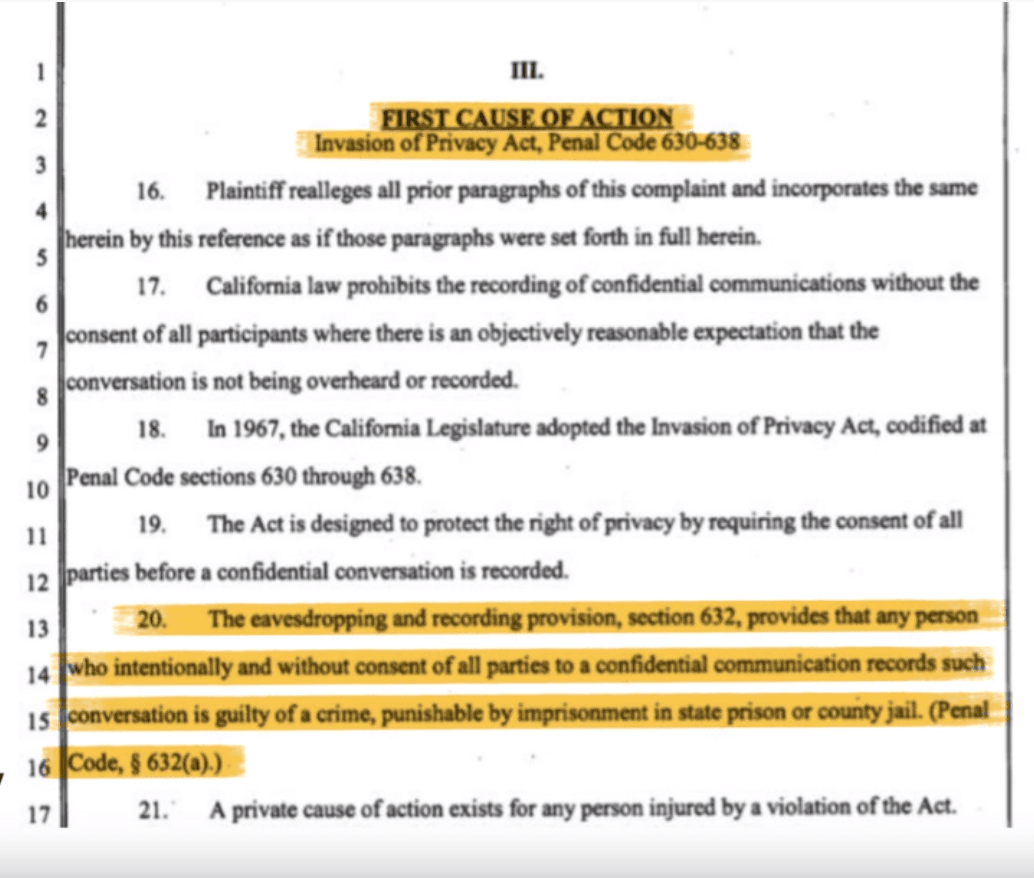 In 2009, O'Keefe, portraying a pimp, and Hannah Giles, portraying a prostitute, met with Vera at his ACORN office. The two recorded Vera offering advice as to how best to smuggle underage female prostitutes from Mexico into San Diego.
"It's better if it's in Tijuana," Vera said to O'Keefe and Giles. "Because I have a lot of contacts in Tijuana."
A week after their meeting, Vera followed up with O'Keefe and invited him to an ACORN housing seminar—adding that ACORN had jurisdiction over 500 houses in the San Diego-area.
He also advised O'Keefe, not to discuss their arrangements with other people. "Trust me, he said. "Trust the Mexican people."
Initially, just after the video of his meeting with O'Keefe and Giles, Vera told a San Diego reporter his involvement in the scheme was to help a prostitute change her life.
Next, Vera later said he was conducting his investigation after the meeting, along with a series of phone calls to his cousin, National City Detective Alejandro Hernandez, about the meeting with O'Keefe and Giles. Phone records confirmed that and other conversations with Hernandez and other law enforcement personnel.
The problem is that journalists, depending on first-hand reporting, cannot always tell when someone is working to deceive them. Project Veritas journalists continue to rely on video reports, which show the subject speaking, rather than merely quoting the individual.
Video footage from the meeting with Vera recorded him accurately. If he decided to play along, he did so at his own risk.
Another ACORN staffer, Tresa Kaelke, who worked in the San Bernardino office, told O'Keefe and Giles at their August 17, 2009 meeting that she had shot and killed her ex-husband, in addition to telling them that she also was once in the prostitution business. Towards the end of the meeting, Kaelke said she would also hurt another man, if he ever talked about her.
San Bernardino detectives found both Kaelke's ex-husbands, and they were alive and well, as was the third man. 
Kaelke told the detectives she was joking around with O'Keefe and Giles, but as in the Vera case, Kaelke was recorded accurately.

Vera sued O'Keefe personally, making the civil claim that O'Keefe violated his privacy rights under California's Invasion of Privacy law. O'Keefe agreed to pay $100,000 to Vera without admitting guilt and with a statement in the settlement agreement that O'Keefe was only settling the suit to bring the matter to a close and avoid further expense.
O'Keefe was told it would cost $750,000 to fight the lawsuit to its conclusion.
The following is language from the settlement: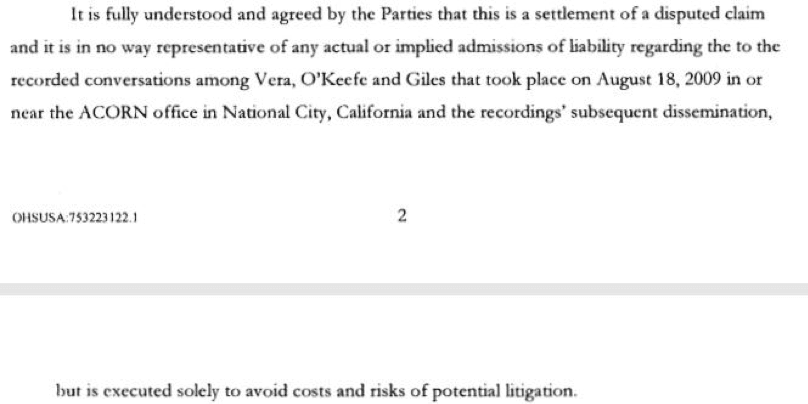 Giles made an independent settlement with Vera and paid him $50,000.
O'Keefe also said he considers his decision to settle one of the great mistakes of his career, because it continues to be misrepresented.
ACORN fired Vera for his role in the O'Keefe and Giles after the video was released.
About Project Veritas
Project Veritas is a non-profit investigative news organization conducting undercover reporting. Project Veritas investigates and exposes corruption, dishonesty, self-dealing, waste, fraud, and other misconduct in both public and private institutions to achieve a more ethical and transparent society. Project Veritas is a registered 501(c)(3) organization.