James O'Keefe Goes Undercover In Greece During Financial Crisis
Award-winning journalist and New York Times' best-selling author James O'Keefe released a powerful new video today presenting the unfettered view of Greece's citizens on their country's economic crisis. O'Keefe was chased from riots under the threat of violence and was even tear-gassed. O'Keefe and Project Veritas undercover journalists also infiltrated communist, socialist, and anarchist movements and captured members of the Greece's parliament on hidden camera.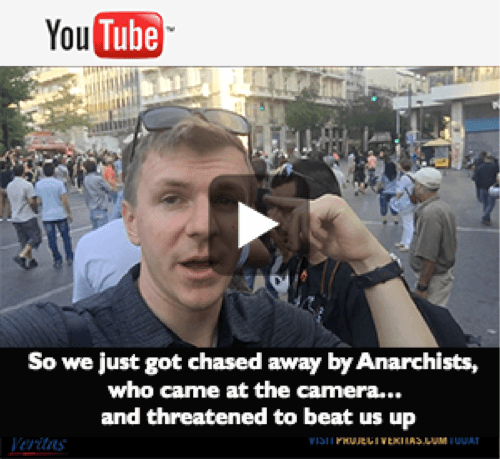 As you can see in today's news, the Greek parliament just effectively disenfranchised the results voters recently enacted opposing austerity reforms in their country. Last night, the Greek politicians voted to accept bailout terms from their European creditors while protestors and police lobbed Molotov cocktails and tear gas at each other in the streets.
In our latest undercover video, we predicted this outcome.
"It looks like a deal will be made," said O'Keefe in the video narration which was produced before the parliamentary vote was cast. "Greece will get a bailout.  It will be business as usual…until the next time Greece can't pay its bills.  Not everyone is happy.  And many feel betrayed by their Prime Minister Alexis Tsipras."
As the situation in Greece continued to deteriorate, O'Keefe and other Project Veritas journalists were right there to capture the footage. Things got particularly intense when they spoke to members of the anarchist movement.  One journalist explained to us on film that when the anarchists come, they put their cameras down so they don't get beaten up.
"Whenever they come, don't shoot," said one of the journalists. "And you never get close to them."
"One day we burn, not only parliament, parliament, police stations," said one of the anarchists we caught on hidden camera. "We attack the police stations, we burn them, so the building…  maybe one day also the parliament will be all black."
One of the highlights of the video was when O'Keefe attempted to vote in the recent Greek Referendum. Unlike his numerous attempts in the United States, O'Keefe was told that photo ID was necessary to vote in Greece. In fact, the Greek poll worker was shocked that the U.S. did not have such laws, saying: "You go to vote and you will not give an ID, and how they know you are the one you say you are?"
Andreas Katsaniotis, a Member of the Hellenic Parliament (Greece's legislative body) was caught on hidden camera saying: "The referendum is so foggy…" when referring to the recent national referendum in Greece on whether to accept the bailout conditions jointly proposed by the European Commission, International Monetary Fund, and European Central Bank.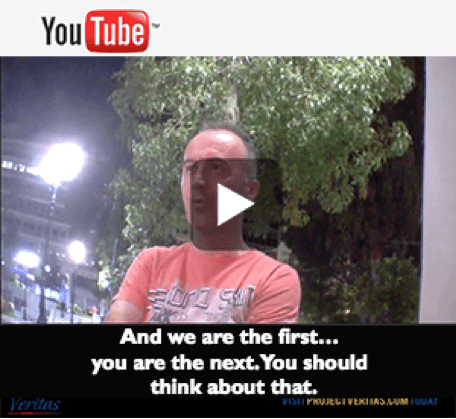 With banks closed and riots in the street, what's truly scary is what's happening in Greece could happen anywhere — even here in the United States. For example, the U.S. territory Puerto Rico just defaulted on a major debt payment.
"We are the first…you are the next," said a Greek nationalist protestor. "You should think about that."
Thinking about such a dystopian vision of America's possible future is certainly depressing but it's important for people to watch our video to see what could happen here when we become unable to pay our nation's bills.
"The scary thing about what we saw in Greece is that America appears to be headed down the same path," stated James O'Keefe; "our current entitlement system is clearly unsustainable. Having seen firsthand the fallout in Greece, I am truly worried about what the future holds for the United States if we continue down our current reckless economic path mortgaging future generations."
About Project Veritas
Project Veritas is a non-profit investigative news organization conducting undercover reporting. Project Veritas investigates and exposes corruption, dishonesty, self-dealing, waste, fraud, and other misconduct in both public and private institutions to achieve a more ethical and transparent society. Project Veritas is a registered 501(c)(3) organization.