It's Official: Pinterest Insider Terminated
Project Veritas has confirmed that the insider featured in our Pinterest report, Eric Cochran, has been fired from his job at Pinterest.  Through interview testimony and documents leaked to Project Veritas, Cochran exposed Pinterest's censorship tactics to suppress Christian, pro-life, and conservative content.
In the letter dated June 18th, Pinterest confirmed Cochran's termination and informed him that his final day at Pinterest is June 19th.  According to Cochran, he was escorted out of Pinterest's offices in San Francisco without reason after the report was published by Veritas.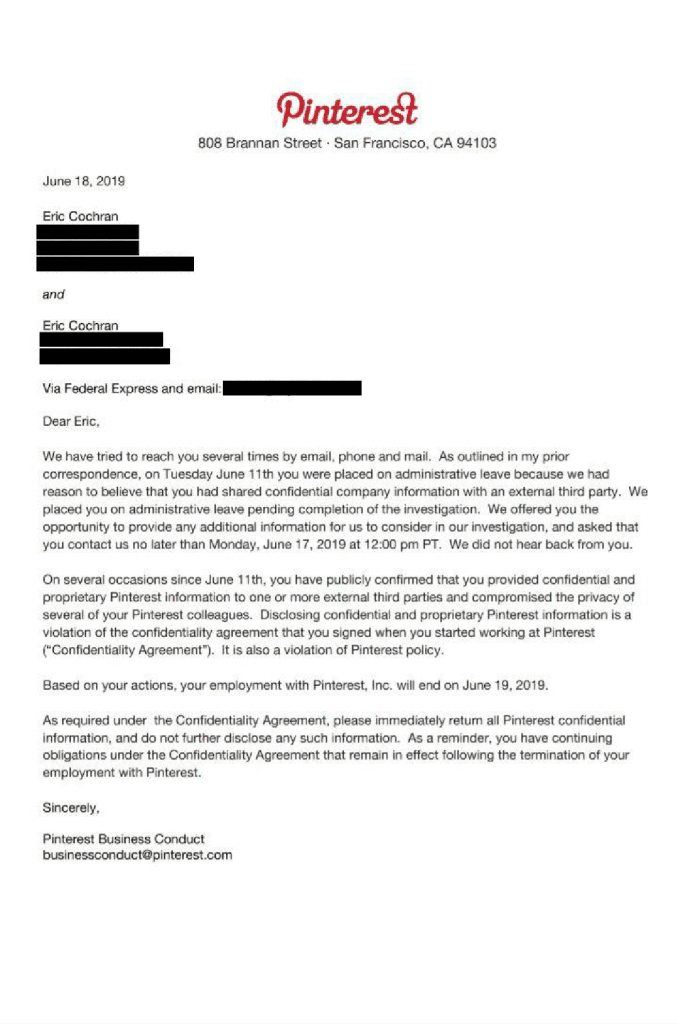 Those who would like to show their support for Cochran and his bravery can give to his campaign on GoFundMe.
Eric Cochran is the second big tech insider to share a story with Project Veritas.  Veritas plans to publish additional reports featuring insiders from Silicon Valley.  Insiders in tech, media, education, and government can contact Project Veritas HERE.
About Project Veritas
Project Veritas is a non-profit investigative news organization conducting undercover reporting. Project Veritas investigates and exposes corruption, dishonesty, self-dealing, waste, fraud, and other misconduct in both public and private institutions to achieve a more ethical and transparent society. Project Veritas is a registered 501(c)(3) organization.