IMPACT: The Washington Post Covers Project Veritas' Video Exposing CBS News
On Wednesday, Project Veritas released a video exposing CBS News for airing a fake COVID-19 testing line.
The video gained MILLIONS of views and reached #6 on Twitter's US trending topics.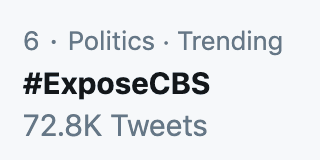 This story was so powerful that even The Washington Post had to cover it.
In an article by Washington Post's Erik Wemple, he recognizes Project Veritas' investigation forced CBS News to delete content from their Cherry Health report on their website:
Large national broadcasters stand by their on-air work if at all possible. So the fact that CBS News is removing the Cherry Health portion of the Diaz story amounts to a significant concession that something went awry in Grand Rapids. The video, recorded by a clinic "insider," includes a comment from a health worker complaining about having to "do fake patients."
Check out Wemple's take on the official statement by Cherry Health's President and CEO Tasha Blackmon:
Cherry Health president and chief executive Tasha Blackmon issued a baffling statement:"Though the Project Veritas report claims the CBS video showing a line of cars was staged; to my knowledge 'CBS This Morning' did not stage any part of their visit, and I did not instruct any of our staff to get in their cars as part of the line of vehicles." That's what they call in the business a non-denial denial.
Wemple acknowledged the impact Project Veritas has on the media's behavior:
By virtue of its audience reach, CBS News has the power to incentivize others to alter the scenes greeted by its news crews. Journalists aware of this rink-tilting dynamic can ask interviewees, Hey, is it usually this busy around here? Or: How long was the line yesterday? Anything to keep O'Keefe out of the proceedings.
Even Wemple knows that his colleagues want to "keep O'Keefe out of the proceedings," but we aren't going to let that happen.
It is up to all of us to hold the media accountable when they don't report the truth. 
If you or anyone you know work at a media corporation and are aware of any fraud or corruption taking place, please reach out to us.
Contact us anonymously at veritastips@protonmail.com
About Project Veritas
Project Veritas is a non-profit investigative news organization conducting undercover reporting. Project Veritas investigates and exposes corruption, dishonesty, self-dealing, waste, fraud, and other misconduct in both public and private institutions to achieve a more ethical and transparent society. Project Veritas is a registered 501(c)(3) organization.