IMPACT: Public Interest Legal Foundation Alerts Authorities to Veritas Voter Fraud Videos
On April 1, 2019 the Public Interest Legal Foundation sent complaint letters to officials in Florida and New York following the release of double-voting voter fraud stories published by Project Veritas (video 1, video 2.)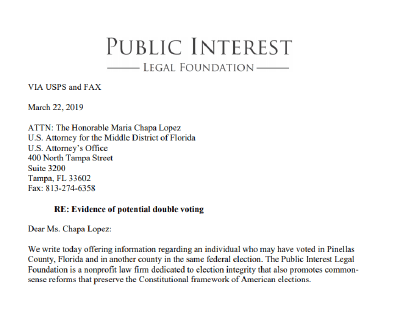 Project Veritas will continue to monitor developments resulting from the release of its voter fraud video series, which will continue in the coming weeks and months.
About Project Veritas
Project Veritas is a non-profit investigative news organization conducting undercover reporting. Project Veritas investigates and exposes corruption, dishonesty, self-dealing, waste, fraud, and other misconduct in both public and private institutions to achieve a more ethical and transparent society. Project Veritas is a registered 501(c)(3) organization.