#FakeNewsAward Nomination: Best Clickbait 2017, Gideon Resnick & The Daily Beast
Project Veritas is proud to announce the next nominee of the newest #FakeNews Award, "Best Clickbait, 2017" to Gideon Resnick & The Daily Beast.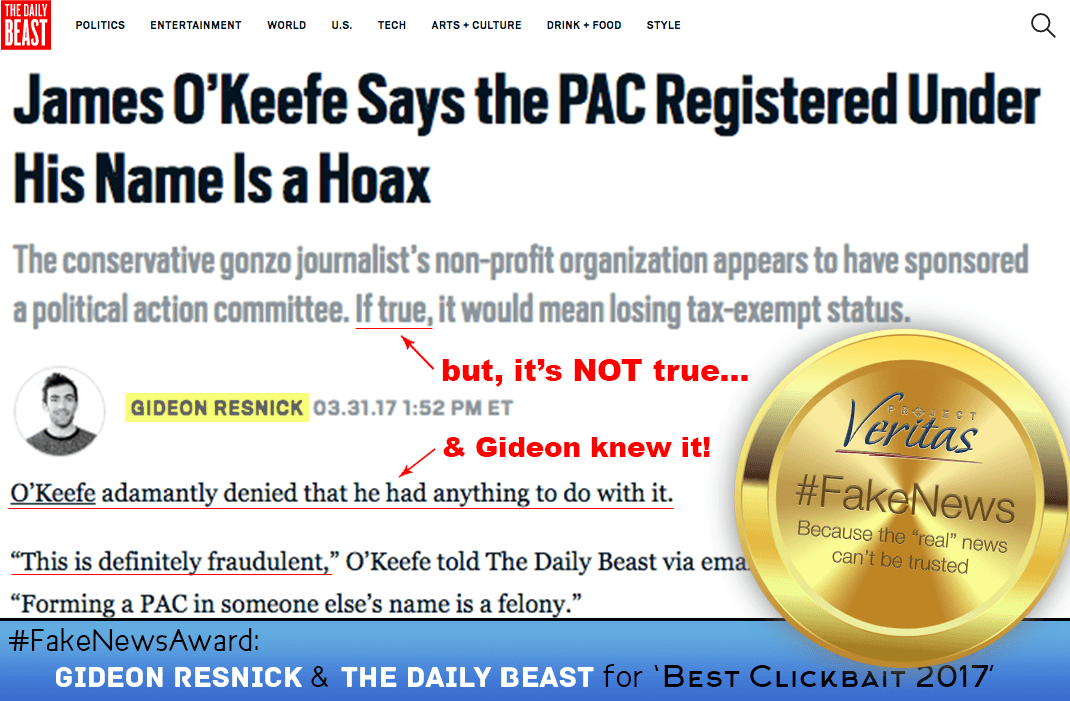 On March 31, Gideon Resnick of The Daily Beast published an article seeming to insinuate that James O'Keefe was guilty of a fraudulent act.
The worst part? Resnick was fully aware that the act was fraudulent before the article was published:
We asked Gideon to change the misleading headline, but he didn't budge. In fact, he seemed to like his clickbait material so much, that he used it as a tweet.
Mr. Resnick seems to excel at writing clickbait #fakenews articles. In fact, it 'appears' to be the only type of article he knows how to write:
Considering his large body of similar works, we are excited to nominate him for "Best Clickbait, 2017."
Congratulations.
About Project Veritas
Project Veritas is a non-profit investigative news organization conducting undercover reporting. Project Veritas investigates and exposes corruption, dishonesty, self-dealing, waste, fraud, and other misconduct in both public and private institutions to achieve a more ethical and transparent society. Project Veritas is a registered 501(c)(3) organization.