Cherry Health CEO: Staff Members STAGED Fake COVID-19 Testing Line, State Lawmaker Demands Governor Act
Key Points
Cherry Health CEO First Said: "Some of Their Staffers May Have Been Hanging Around the Testing Tent and Pulled Their Cars Up to Make it Look Busier."

Cherry Health Board of Directors Now Involved.

State Rep. Demands Michigan Gov. Gretchen Whitmer Investigate

James O'Keefe: Cherry Health CEO, Board of Directors Send Mixed Messages 
Mamaroneck, N.Y.—Project Veritas today issued an update to the Cherry Health, CBS news fake COVID-19 testing site story in a video released this weekend.
WOOD-TV, an NBC affiliate, reported: "CEO Tasha Blackmon says staffers were in the line to provide a backdrop to show how busy it actually gets, it was to protect patient privacy and HIPAA couldn't get the real people." HIPAA, or the Health Insurance Portability and Accountability Act, protects medical privacy.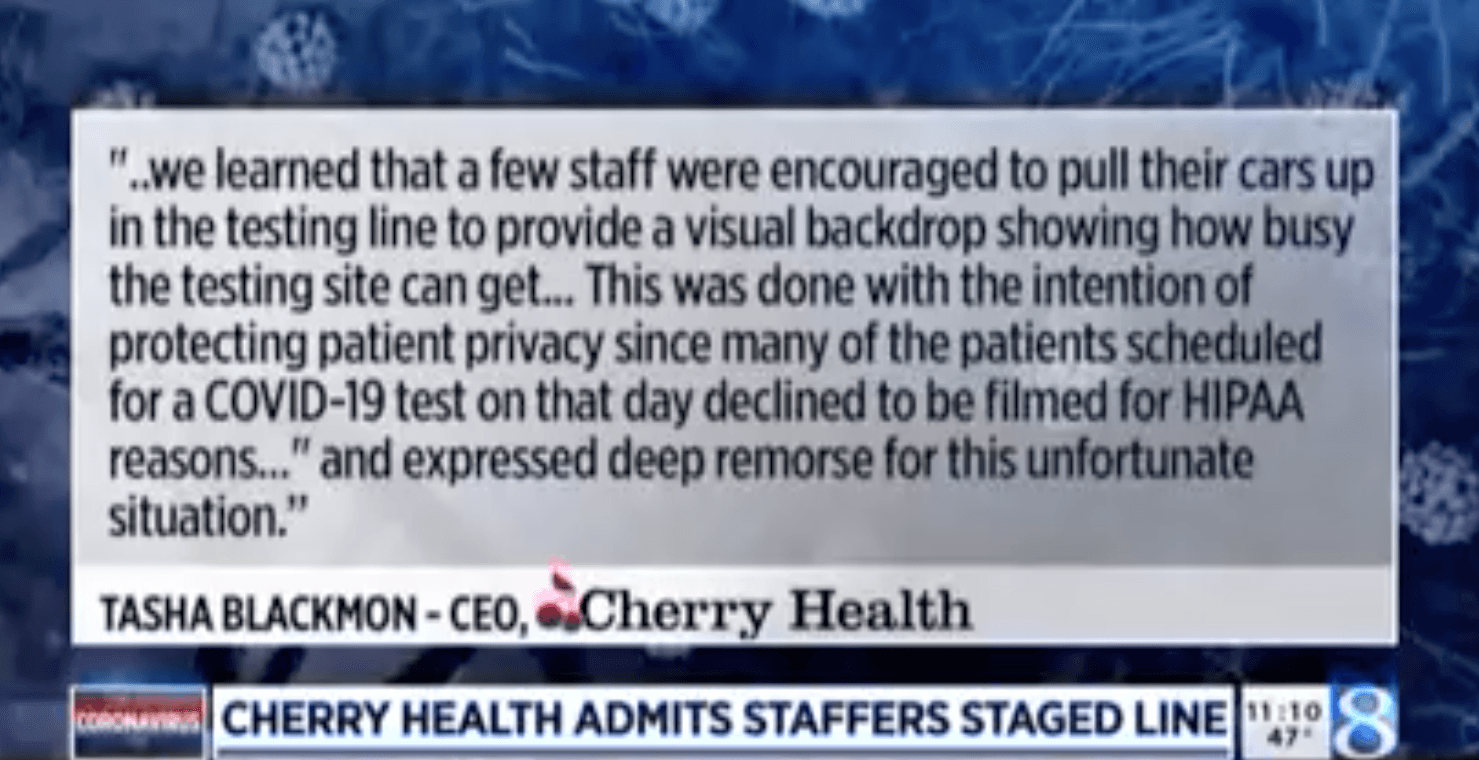 Grand Rapids' WXMI-TV, a Fox affiliate, reported: "Now the board of directors is getting involved, planning a special meeting."
Cherry Health's board president Scott Afree said the board will evaluate the matter.
"The board will still provide its complete oversight of the entire situation and then take appropriate internal and external action resulting from that oversight," he told News 8 Thursday evening.
"The Cherry Health CEO and the board are sending mixed messages," said James O'Keefe, the founder and CEO of Project Veritas.  

Click HERE to watch the full video. 
"First, she said CBS News and Cherry Health had nothing to do with asking members of the staff to step away from patients and get in their cars and wait-and-drive-and-wait in a fake COVID-19 testing line for the CBS News cameras. Then, she said her staffers did it on their own and some staffers 'may have been hanging around the testing tent and pulled their cars up to make it look busier'—NOW, she is admitting responsibility," said O'Keefe.
"As a CEO, one would expect you to be aware of a nationally broadcast show on your property. The evolution of her statements is incredulous. From pleading ignorance, to limited knowledge to bringing in a Federal Law (HIPAA) as a defense," said O'Keefe.
Local State Rep. Steve Johnson, whose neighboring district is just south of Grand Rapids, demanded in a letter to Michigan Gov. Gretchen Whitmer she investigate what happened at the Cherry Health COVID-19 drive-through testing line when the CBS News crew was filming for their May 1 report.
The state representative, who sits on the Oversight Committee, wrote he was concerned that a taxpayer-supported facility was exploited for a political agenda.
Cherry Health is a taxpayer-funded entity and, as such, should receive proper oversight. Instances like this where taxpayer dollars are potentially being utilized for propaganda, not only lacks integrity but is also dishonest and disrespectful to our taxpayers. Taxpayers deserve to know that their dollars are being spent properly and in a principled manner.

As elected officials, the importance of transparency in this COVID-19 crisis has never been greater. It is our responsibility to ensure Michigan residents and Americans alike know the whole truth about what really happened between CBS News and Cherry Health.
O'Keefe said Project Veritas continues to investigate the incident.
Anyone with additional insight into this controversy or a different story is urged to email: veritastips@protonmail.com.
###
About Project Veritas
Project Veritas is a non-profit investigative news organization conducting undercover reporting. Project Veritas investigates and exposes corruption, dishonesty, self-dealing, waste, fraud, and other misconduct in both public and private institutions to achieve a more ethical and transparent society. Project Veritas is a registered 501(c)(3) organization.