CBS News Blames Cherry Health Clinic For Staging FAKE COVID-19 TEST LINE, Takes Down Story From YouTube
Key Points
CBS NEWS: "THEY INFORMED US FOR THE FIRST TIME THAT ONE OF THEIR CHIEF OFFICERS TOLD AT LEAST ONE STAFFER TO GET IN THE TESTING LINE ALONG WITH REAL PATIENTS."

CHERRY HEALTH INSIDER: COLLEAGUE TOLD ME 'CBS NEWS HAD ASKED CHERRY HEALTH TO FABRICATE A LINE TO OBTAIN NEWSWORTHY FOOTAGE.'

CHERRY HEALTH CEO: I DID NOT SPEAK TO CBS NEWS ABOUT THEIR STATEMENT

CHERRY HEALTH CEO: I HAVE NO IDEA WHEN IT WAS FILMED OR WHO WAS IN EACH CAR 
[Mamaroneck, N.Y.—May 6, 2020] CBS News denied it had any involvement in the faked line of cars staged for its "CBS This Morning" segment on COVID-19 testing, according to its May 5 statement to Project Veritas—an account disputed by a clinic insider.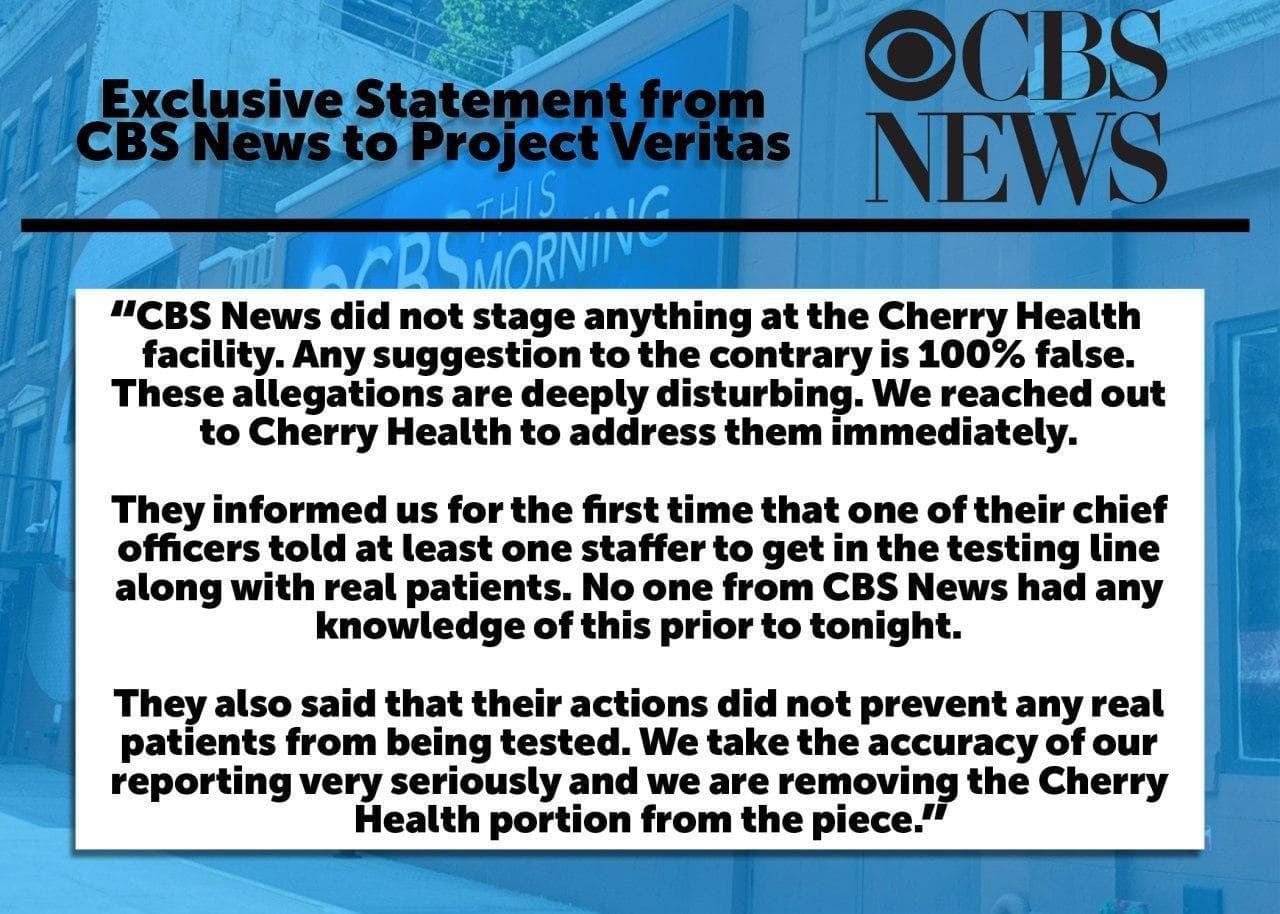 This is the May 5 statement from CBS News:
CBS News did not stage anything at the Cherry Health facility. Any suggestion to the contrary is 100% false. These allegations are deeply disturbing. We reached out to Cherry Health to address them immediately. They informed us for the first time that one of their chief officers told at least one staffer to get in the testing line along with real patients. No one from CBS News had any knowledge of this prior to tonight. They also said that their actions did not prevent any real patients from being tested. We take the accuracy of our reporting very seriously and we are removing the Cherry Health portion from the piece.
The Cherry Health insider, who came forward to Project Veritas, said the CBS News crew working for CBS News reporter Andriana Diaz had to know what happened.
"Based on my knowledge, CBS News had asked Cherry Health to fabricate a line to obtain newsworthy footage, I was given this knowledge from a colleague at Cherry Health," the insider said.
"After reviewing their response, I can say definitively that the majority of the line shown in their footage is fake, after CBS had gotten the shot they wanted the entire line dispersed and drove in separate directions," the insider said.
"Some did U-turns others parked in nearby parking, and the rest just drove through the testing site without being tested," the insider said. "As I stated previously, the nurses did exclaim frustration as it caused an unduly long wait time for a patient that actually needed the testing."
James O'Keefe, the founder and CEO of Project Veritas, said he is not surprised by the fake footage running on CBS News.
"How many more stories have staged events to support a media outlet's narrative," he said. "CBS News was caught because someone stepped forward. We need more insiders to come forward—especially as our leaders make decisions during this pandemic based on what they see in the news."
Tasha Blackmon, the president and CEO of the Cherry Health told Project Veritas she did not talk to anyone at CBS News about their statement.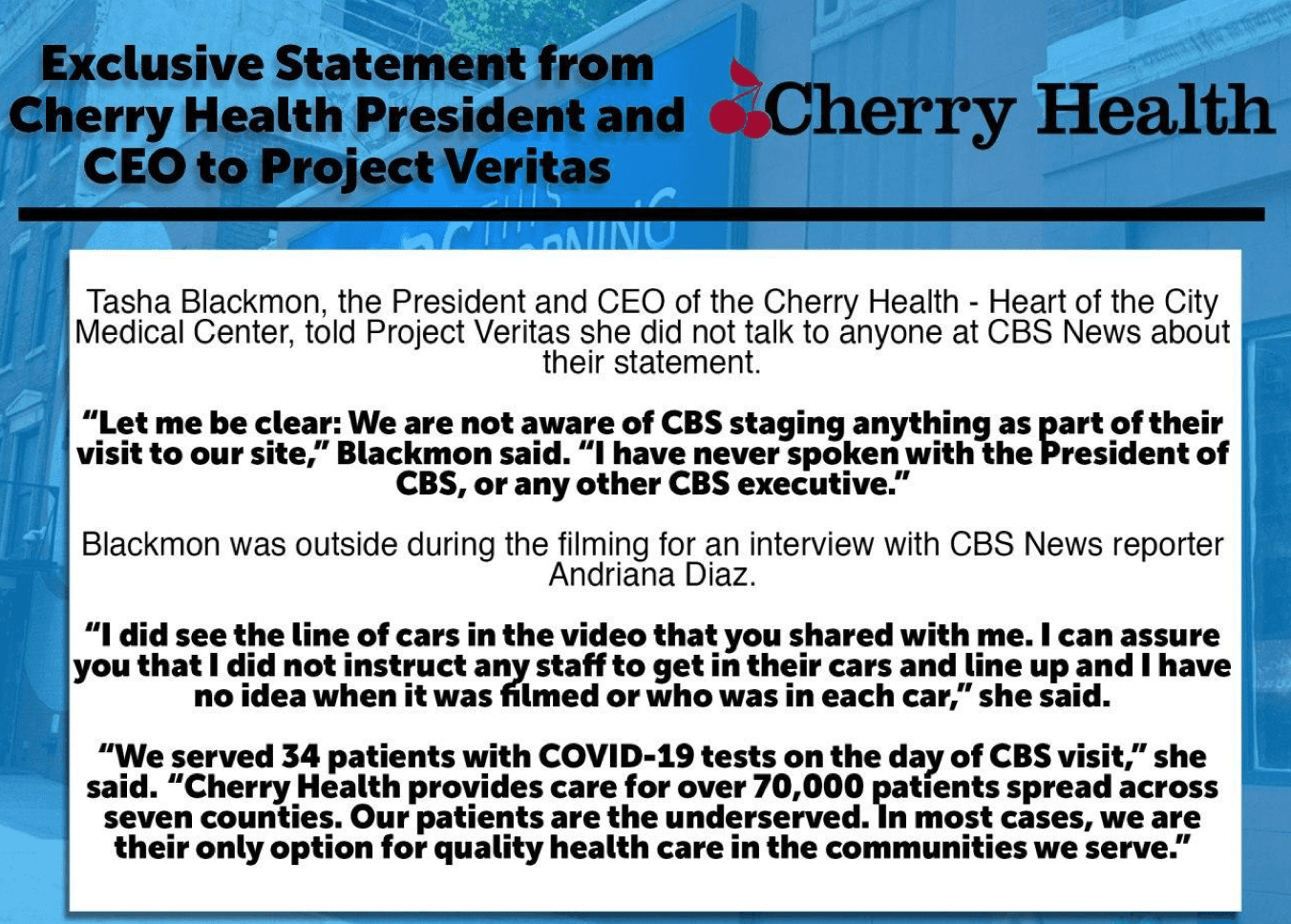 "Let me be clear: We are not aware of CBS staging anything as part of their visit to our site," Blackmon said. "I have never spoken with the president of CBS, or any other CBS executive."
Blackmon was outside during the filming for an interview with CBS News reporter Andriana Diaz.
"I did see the line of cars in the video that you shared with me. I can assure you that I did not instruct any staff to get in their cars and line up and I have no idea when it was filmed or who was in each car," she said. 
"We served 34 patients with COVID-19 tests on the day of CBS visit," she said. "Cherry Health provides care for over 70,000 patients spread across seven counties. Our patients are the underserved. In most cases, we are their only option for quality health care in the communities we serve."
---
About Project Veritas
Project Veritas is a non-profit investigative news organization conducting undercover reporting. Project Veritas investigates and exposes corruption, dishonesty, self-dealing, waste, fraud, and other misconduct in both public and private institutions to achieve a more ethical and transparent society. Project Veritas is a registered 501(c)(3) organization.