AmericanPravda: The President Responds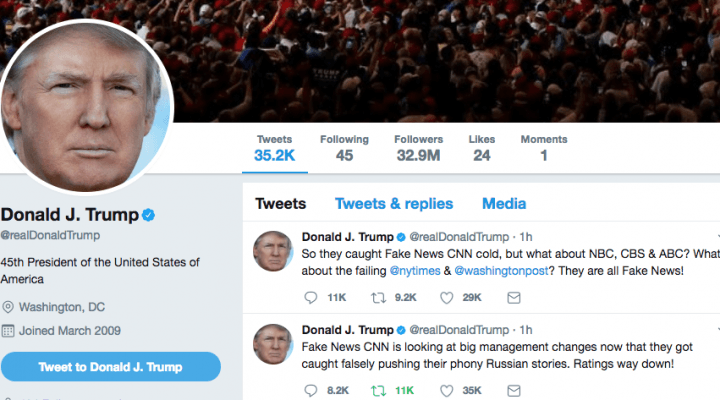 Early this Tuesday morning, Donald Trump Jr. began tweeting about CNN's Fake News reporting, as recently seen in Project Veritas' latest video release:
Donald Trump Jr. continues to praise James O'Keefe and Project Veritas in the following Tweet:
Shortly after, the President himself tweeted the following about Fake News reported by CNN:
President Trump continued the Fake News conversation, asking about the rest of the MSM being held accountable as well, by tweeting:
James O'Keefe from Project Veritas responded to the President directly by tweeting the following:
CNN finally responded to the President's "allegations" with the following Tweet:
The Washington Post attempted to criticize President Trump's timing of "renewing his attack on fake news CNN" after the recent retracted story about alleged ties between Trump's allies and Russia. Donald Trump Jr. responded to the article on Twitter with the following statement:
Several other news sources have reported on the American Pravda Video from Project Veritas, including: Drudge, Russia Today, The Daily Caller, RT, Rare.us, The Hill, …
James O'Keefe stated the following in response to The President's comments on the American Pravda story:
"President Trump said CNN was fake news and we just proved it. He asked about the rest of the mainstream media. They are on our list. More to come…"
About Project Veritas
Project Veritas is a non-profit investigative news organization conducting undercover reporting. Project Veritas investigates and exposes corruption, dishonesty, self-dealing, waste, fraud, and other misconduct in both public and private institutions to achieve a more ethical and transparent society. Project Veritas is a registered 501(c)(3) organization.