American Pravda "ROCKS IT!" – James O'Keefe on the Rush Limbaugh Show
Back in January around the time we first released our blockbuster Twitter investigation, James O'Keefe published his second book, American Pravda: My Fight for Truth in the Era of Fake News. Thousands upon thousands of people have now read it and learned more about how and why Project Veritas does what it does.
On March 27th, 2018, James went on the Rush Limbaugh Show to discuss the book with guest host Ken Matthews, who said,
"When James writes a book… it's a text book learning experience but it reads better."
Matthews is spot on. In American Pravda, James talks about how the mainstream media has become so corrupt, gives behind the scenes details of our undercover operations, and talks about the history and ethics of undercover journalism.
Later in the interview, James reflected on the growth of Project Veritas over the years,
"We are everywhere, we're like germs. I'm serious. It used to be just me and Hannah and a couple people. We have built something unbelievable. We have dozens of people, as we speak, infiltrating these government agencies, the deep state, big tech, education, we're coming after you."
After the interview was over, American Pravda shot up to #49 on the Amazon best-sellers list! The proceeds go directly to funding our undercover operations, so we want to thank everyone who went out and purchased the book!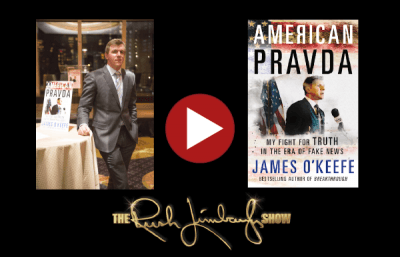 About Project Veritas
Project Veritas is a non-profit investigative news organization conducting undercover reporting. Project Veritas investigates and exposes corruption, dishonesty, self-dealing, waste, fraud, and other misconduct in both public and private institutions to achieve a more ethical and transparent society. Project Veritas is a registered 501(c)(3) organization.