 James O'Keefe - Project Veritas Board of Directors Chronology of Events
2020 – 2022: Financial expenditures increase commensurate with donations increase (PV Donations: 2019 ~ $12M, 2020 ~ $20.6M, 2021 ~ $24M & 2022 ~ $22M)

2020 – 2021: remediation of  personal expenditures were forced via various attempts (i.e., CFO refusal to sign paperwork, IRS guidelines provided by outside counsel and collaboration with Executive Assistant to reimburse PV) as part of resolving issues.

2022: issues became more onerous with respect to tracking and reconciling internally.

January 20, 2023: Fundraising event in Florida.

January 24 and 25, 2023: Adam Goldman street interview which staff was aghast at and our Pfizer investigation is released (PV firmly stands behind the Pfizer investigation results to this day).

January 30, 2023: Twitter Spaces hosted to engage the public about PV's Pfizer story.

January 31, 2023: Volatile Senior Staff meeting leads to the request for Board intervention to address rampant mistreatment of employees creating a toxic work environment,  one individual's perceived consolidated  authority to hire and fire employees as well as the implementation of revised guidance around expenditures and third-party payment approval process.

February 2, 2023: James fired the CSO and CFO misrepresenting that another Board member had also approved of the firing of the CFO.  Said Board member unequivocally denied  giving such approval.

Feb 6, 2023: First in a series of Board Meetings during which several hours of employee testimony is heard; Mr. O'Keefe refused to entertain even the possibility to change the financial expenditures approval process or unilateral authority to hire and fire staff.  The Board put Mr. O'Keefe on two weeks mandatory PTO  to investigate the issues.; The Board suspends Mr. O'Keefe's ability to hire and fire employees for one hundred and eighty (180) days, his authorization to use the company credit card and restricted interaction with  donors while on PTO.  James remained CEO and a Board member.

February 10, 2023: Board meets ; Mr. O'Keefe failed to attend; interim financial investigation is presented; Mr. O'Keefe is suspended from the Board and without pay effective upon the expiry of his PTO on February 20, 2023 pending the results of an investigation by an external third party auditor; PV Board's intention remained to reinstate Mr. O'Keefe with appropriate safeguards.

February 16, 2023: Mr. O'Keefe  sends an email  demanding the resignation of most of the officers and all of the Board members by February 17, 2023 , failing which, he would not return to PV absent his continued unilateral control without the implementation of anticipated safeguards and personnel management changes.

February 17, 2023: Mr. O'Keefe forms O'Keefe Media Group ("OMG") while on PTO unbeknownst to Project Veritas.

There was no intention of terminating Mr. O'Keefe  when the Board convened  February 6, 2023.  In fact, he wasn't terminated until May 15, 2023.  Rather, the goal was always to achieve an amicable solution to the personnel mismanagement and expenditures for the organization experiencing significant recent growth.

On February 20, 2023, James films remarks in front of selected group of employees which was "intended" only for employees but was immediately leaked to the public after recording.  In this video, James states he has not resigned from Project Veritas.

March 15, 2023: Mr. O'Keefe announces the launch of O'Keefe Media Group.

Multiple additional breaches of the terms of Mr. O'Keefe's Employment Agreement and Project Veritas' Employee Handbook occur since February 6, 2023.

James  made false and disparaging comments about PV during three dozen appearances and interviews with various media personalities, as well as to donors .

James was terminated from Project Veritas with cause effective May 15, 2023.

Project Veritas will always act as good stewards of donor contributions as a non-profit.  We have not, and will never, betray our mission to expose waste, fraud, corruption and abuse, regardless of perceived ideology and wherever the story takes us.  This is self-evident by virtue of our investigation and releases since February, 2023, including re-releases of our Pfizer story of which we remain very proud to have brought to the world.  With the support of our loyal and generous donors, who are the very lifeblood of this organization seeking truth in all things, Project Veritas will long endure for We The People.
O'KEEFE CLAIM #1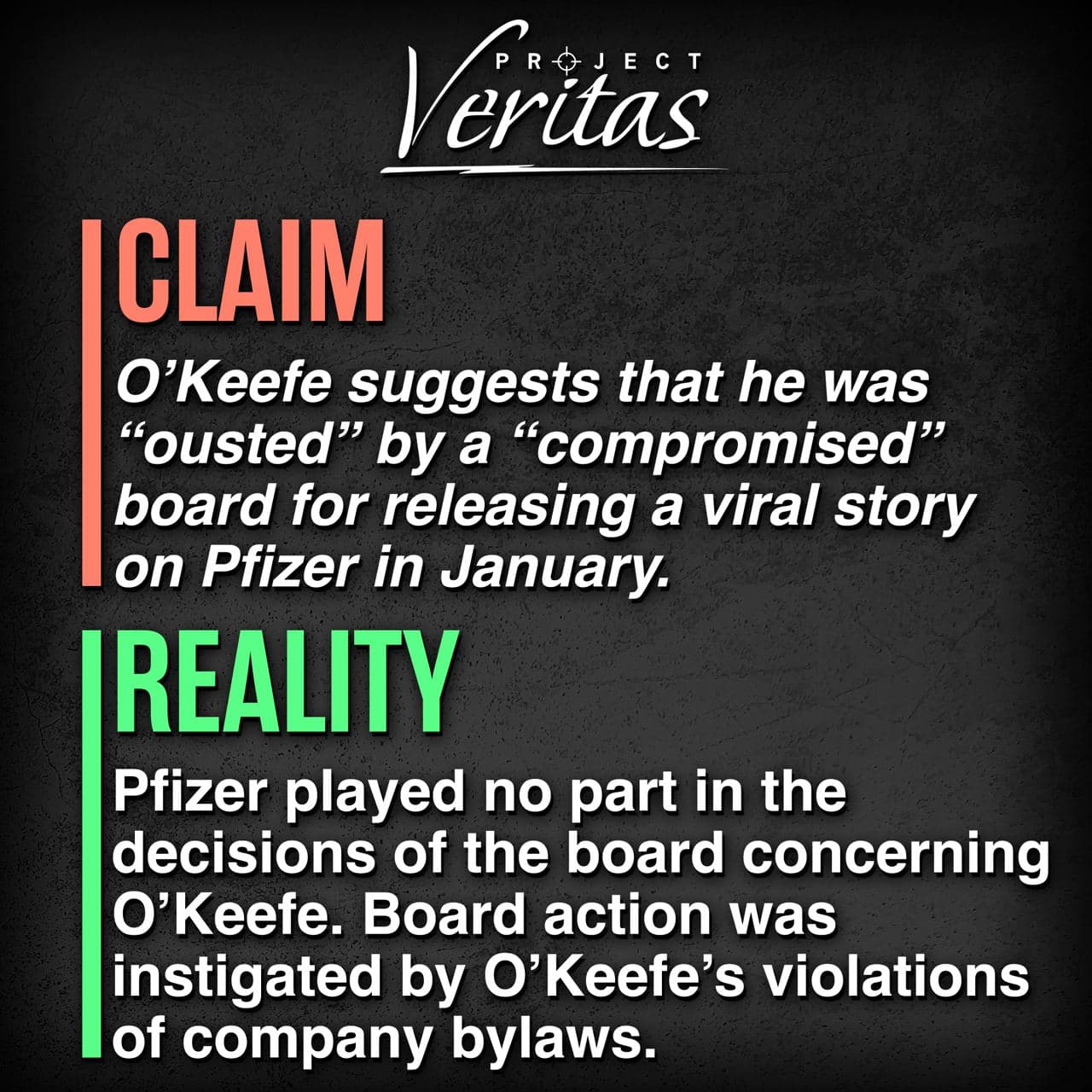 O'KEEFE CLAIM #2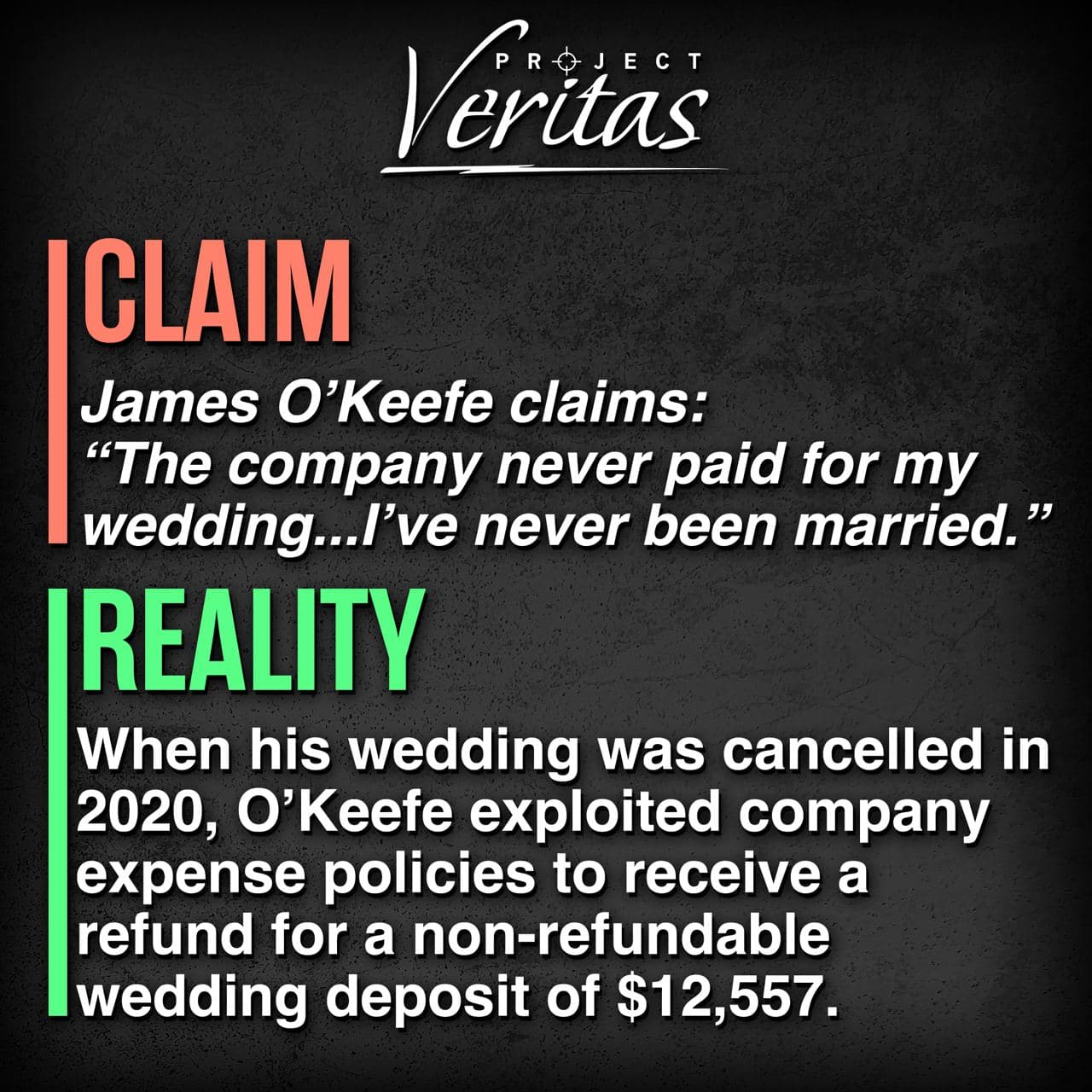 O'KEEFE CLAIM #3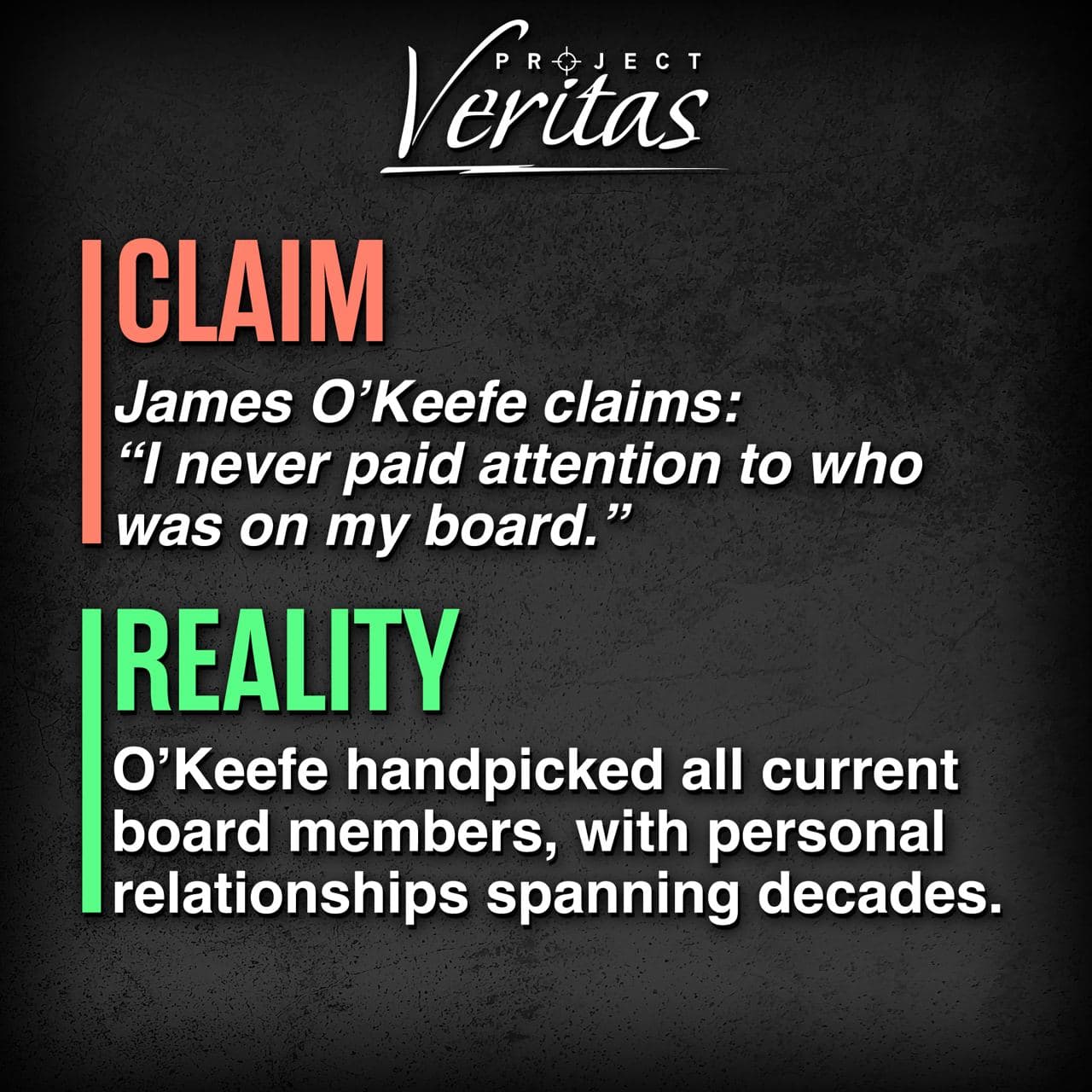 O'KEEFE CLAIM #4
O'KEEFE CLAIM #5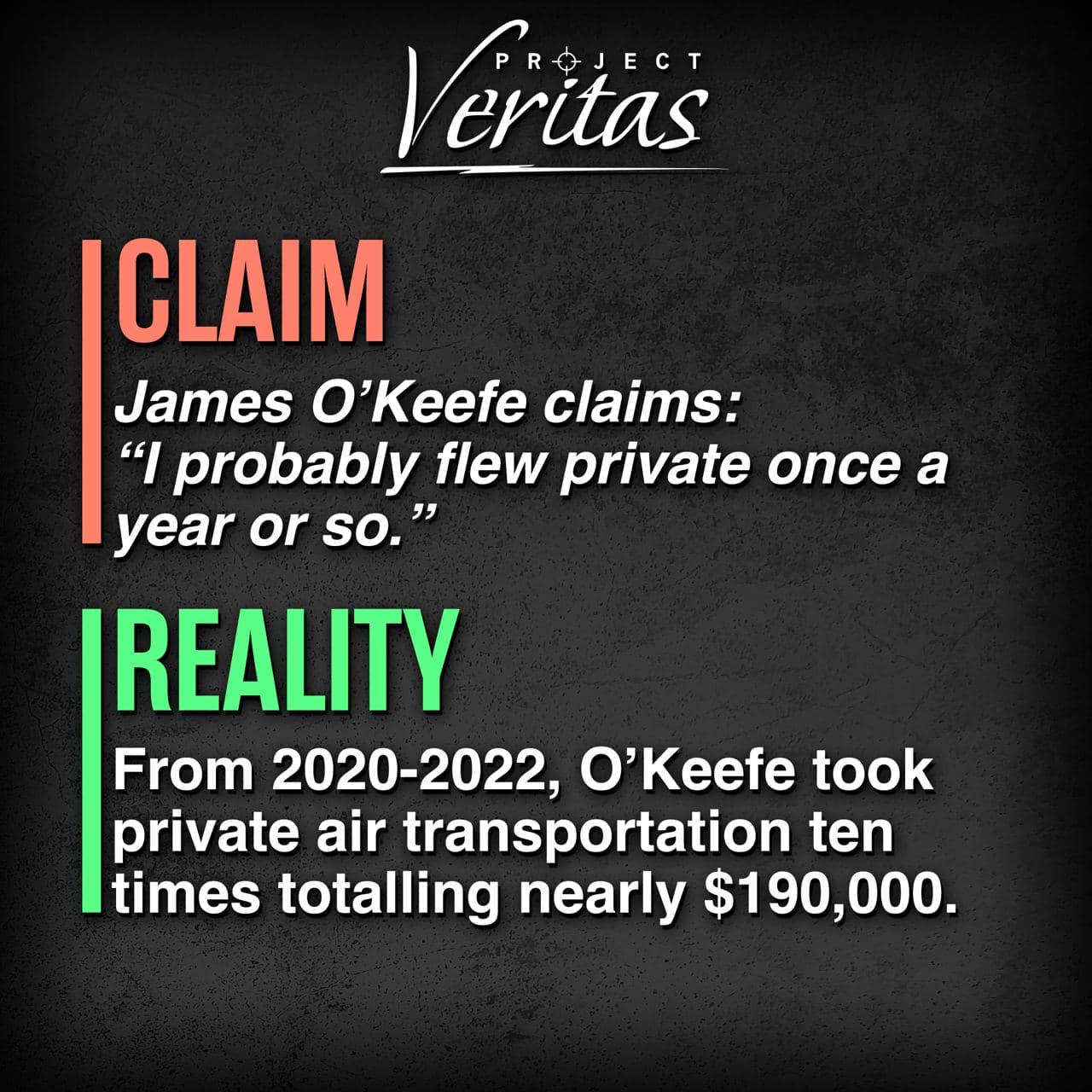 O'KEEFE CLAIM #6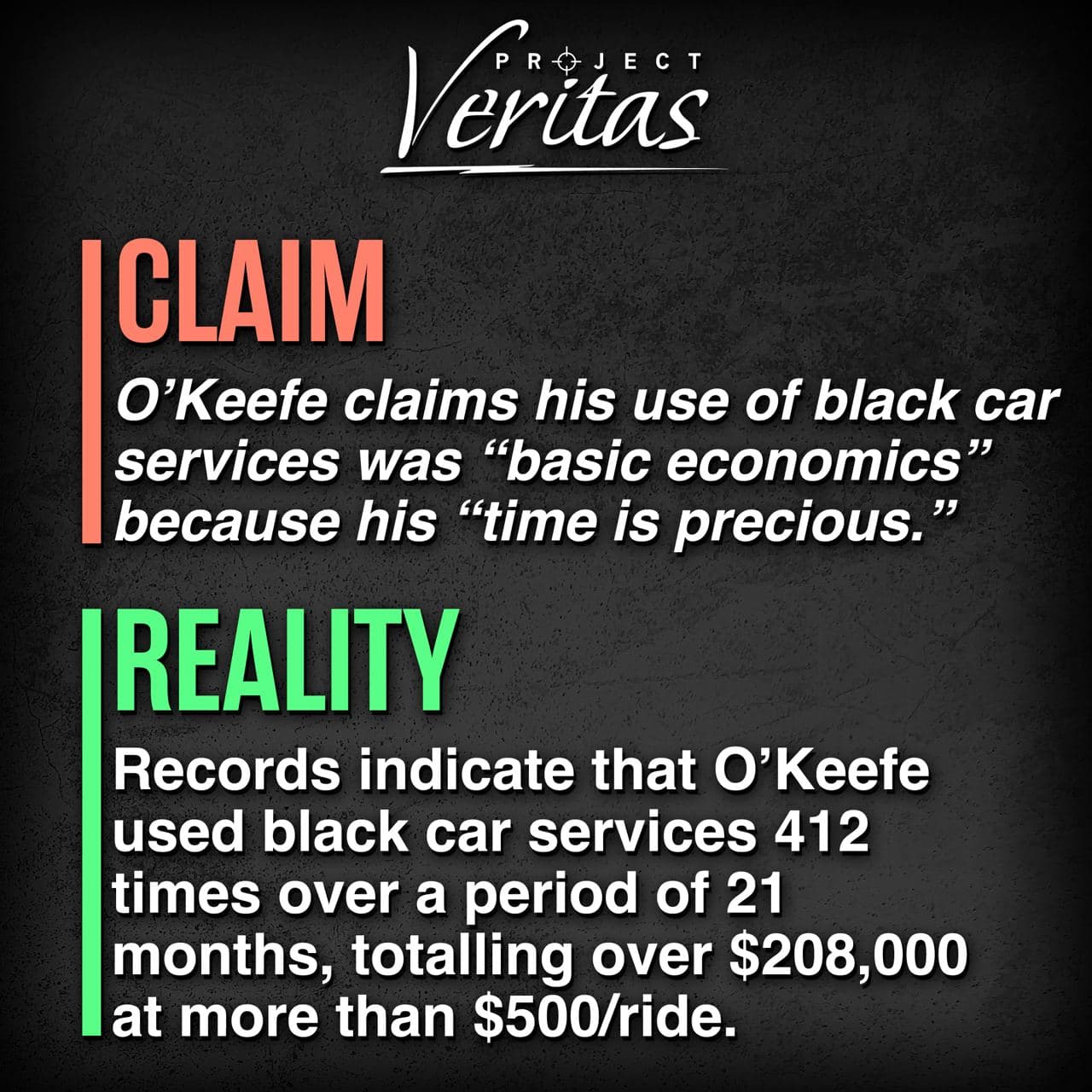 O'KEEFE CLAIM #7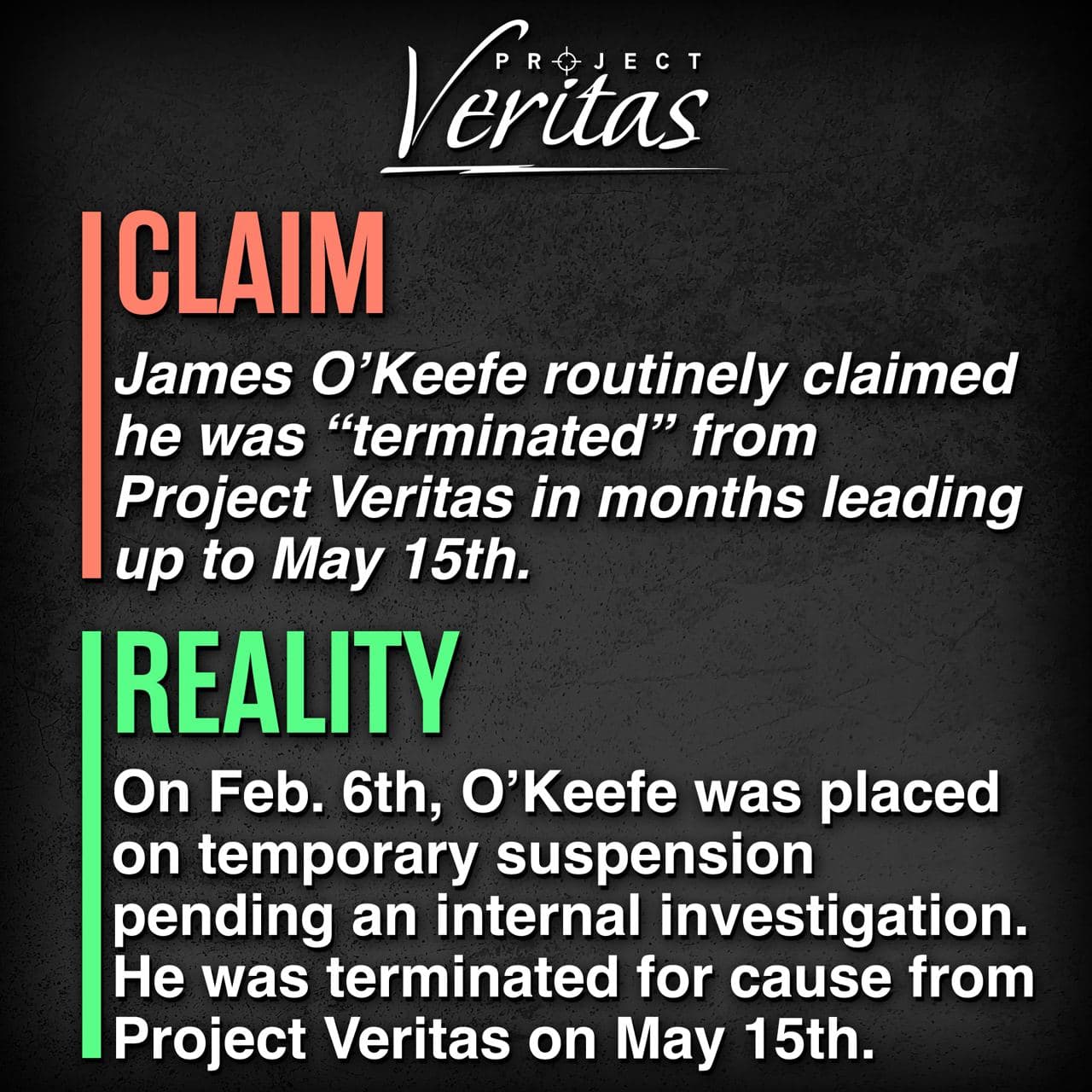 Project Veritas is facing many challenges that are familiar to growing organizations. We are making major changes internally due to the nature of our past interpersonal and managerial issues. We are more committed than ever to producing great journalism that exposes the stubborn false narratives plaguing our society.