1. New York Times
In March 2021, Project Veritas secured a landmark ruling, defeating a motion to dismiss, after we sued the New York Times for defamation for calling our Minnesota ballot harvesting release "deceptive" and a "coordinated disinformation campaign." 
The New York Times has answered our complaint and filed an appeal of their motion to dismiss loss.  We are proceeding to discovery.
This historic victory would mark the eighth time that a party adverse to the New York Times has successfully gotten past a Motion to Dismiss without appeal since The New York Times v. Sullivan case in 1964.  Discovery will permit us to look into the operations of the New York Times in an unprecedented way.
2. CNN
In April 2021, Project Veritas sued CNN for defamation after host Ana Cabrera falsely stated that the Project Veritas Twitter account was permanently suspended as part of a "crackdown" on "the spread of misinformation."  This reporting directly contradicted Twitter's public statements, CNN's prior coverage, and Ana Cabrera's prior statements, that our account was suspended for allegedly violating Twitter's anti-doxing policy after we released a video requesting comment from Facebook Executive Guy Rosen, a common journalistic practice engaged in by outlets such as CNN.  CNN is in the process of filing a response.
3. Twitter
In April 2021, James O'Keefe sued Twitter for defamation after it falsely stated to journalists that he was suspended for operating fake accounts.  Twitter is in the process of filing a response. While Twitter is protected by Section 230 Immunity, Twitter is not entitled to defame individuals or journalistic enterprises.
4. Jesse Hicks
In May 2021, Project Veritas filed a legal action in Texas requesting for a pre-lawsuit deposition of journalist Jesse Hicks after we suspected he unlawfully impersonated Project Veritas staff to obtain classified company financial information, personnel information, and personal information regarding James O'Keefe.  Jesse Hicks has published this unlawfully obtained information in several articles.  While we endorse the use of aliases and undercover methods to obtain truthful, newsworthy reporting, Project Veritas has never engaged in criminal impersonation, pretended to be real individuals, or reported on non-newsworthy, personal matters of private concern.  This deposition is a preliminary step before filing suit against Jesse Hicks and any other actors who unlawfully worked in concert with him. 
5. Erie Postmaster Robert Weisenbach
In May 2021, Project Veritas, James O'Keefe, and USPS Whistleblower Richard Hopkins were sued for defamation, infliction of emotional distress, and negligent misrepresentation after we released a story reporting on a conversation Richard Hopkins overheard between his supervisor and the Eerie Postmaster, Robert Weisenbach, discussing backdating ballots received after the election deadline.  We are seeking to dismiss the complaint as it failed to state a single, viable cause of action.  Publishers are legally protected when publishing newsworthy matters and we believe this lawsuit amounts to nothing more than a publicity stunt.
6.   Democracy Partners
In June of 2017, Democracy Partners and Robert Creamer filed a lawsuit in federal court claiming the 2016 Project Veritas undercover investigation conducted by an undercover journalist interning at the Democracy Partners office constituted a Breach of Fiduciary Duty, Trespass, Fraudulent Misrepresentation, Unlawful Wiretapping and Civil Conspiracy.
On March 31, 2020, the court granted  Project Veritas' Motion for Summary Judgement in part, outright dismissing two critical claims, Trespass and Breach of Fiduciary Duty.
The judge determined there were fact issues associated with Fraudulent Misrepresentation, Unlawful Wiretapping and Civil Conspiracy, which leaves these issues to be decided be a jury, the trier of fact, anticipated to be in October 2020.
We look forward to the trial where the Plaintiff will no longer have the benefit of having their arguments heard in the most favorable light, but rather, they actually have to prove their claims.
7. Oregon
Project Veritas and Project Veritas Action challenged Oregon's two-party consent recording statute.  Oregon filed a Motion to Dismiss, which was denied in part and is pending a final ruling as to the remaining issues.
8.   AFT-Michigan
In September 2017, the American Federal of Teachers, Michigan, filed a complaint and obtained a temporary restraining order against Project Veritas. The AFT attempted to prevent Project Veritas from releasing its findings from an undercover investigation into the AFT's activities. 
Relying on the First Amendment, Project Veritas convinced a federal court to overturn the restraining order as it was a prior restraint on free speech. Project Veritas went on to publish the video in May 2018.
As a result, AFT pursued litigation against Project Veritas, leading to depositions in that case.
David Hecker, the president of AFT Michigan, admitted his true intentions for starting this legal process against Project Veritas:
"To have the lawsuit in -- in any way possible stop Project Veritas from doing the kind of work that it --it does, and to, as part of that, to compensate AFT Michigan for -- for damages."

"If the result of it was also in some way slowing down or limiting what Project Veritas does, that would have been a great outcome as well, or will be a great outcome as well."
In July of 2018, AFT issued a Press Release attacking Project Veritas. Paul Mersino, the attorney who represents Project Veritas in this case, brought the release up in an exchange with Hecker.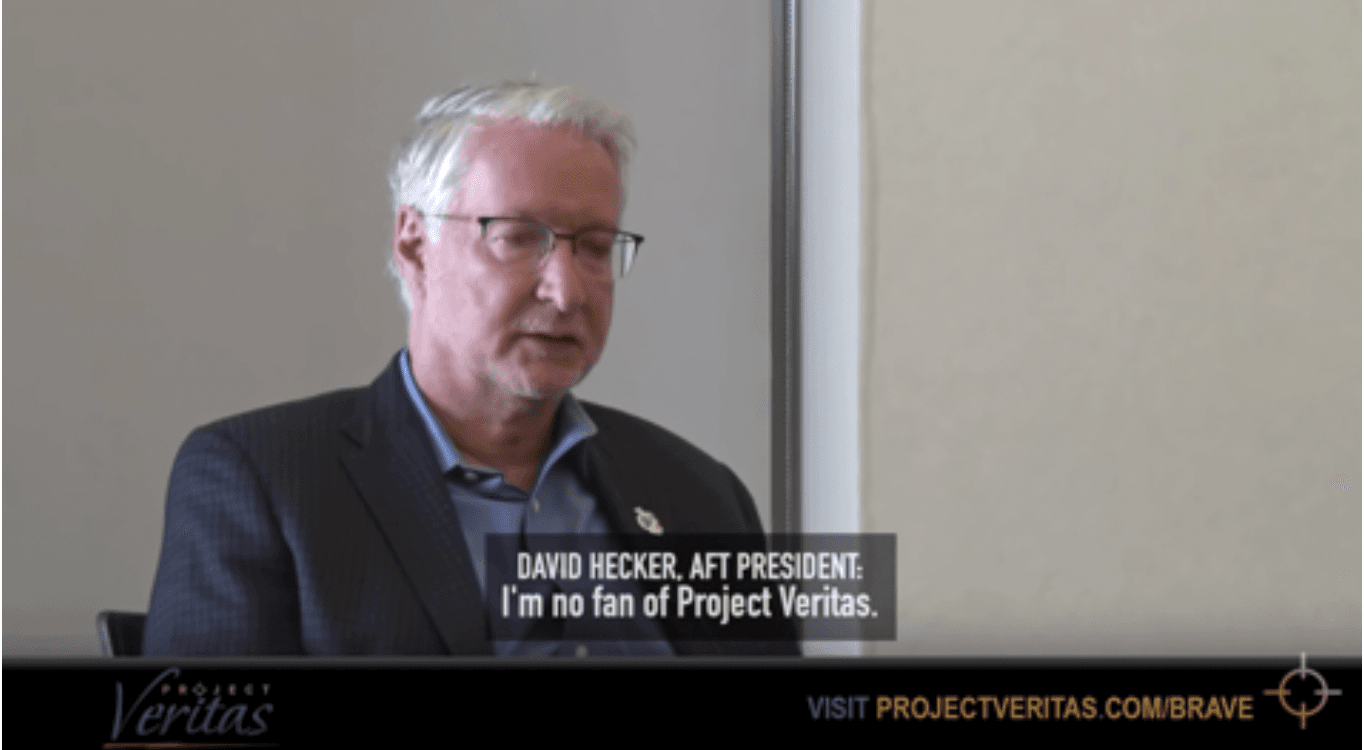 The following is the exchange with Mersino and Hecker quoting the AFT press release:
Paul Mersino, Project Veritas Attorney: "A federal judge has issued a crucial ruling allowing the American Federation of Teachers to gather information on conservative hit group Project Veritas as legal and financial pressure on the embattled outfit mounts. Were you at any point in time concerned with how much legal and financial pressure was mounting on Project Veritas?"

Mark Cousens, Lawyer, AFT Michigan:  Objection, relevance…

Mersino: "Did you have any discussions with anyone outside of your attorneys, others at AFT Michigan, about whether or not you could cause Project Veritas to receive financial pressures?"

David Hecker, President AFT Michigan: "Of course, it's going to cost Project Veritas money and it's fact -- right? -- but that's not -- we didn't sit down and say "let's concoct a lawsuit" so we could make them spend a lot of money."

Mersino: "And I think you mentioned earlier that if it's a side effect of it, then all the better essentially?"

Hecker: I'm no fan of Project Veritas.

In the next exchange, Hecker admitted using local and national member dues to fund attacks against Project Veritas:

Mersino: "What resources does AFT Michigan have at its disposal? Do you use member dues to help pay for this litigation?"

Hecker: "Yes."

Mersino:  "Is AFT National helping pay for the litigation?"

Hecker: "Yes."

In another exchange, Mersino pressed Hecker on Randi Weingarten, the national president of AFT of her role:
Mersino: "Was Randi Weingarten involved in those consultations with AFT National?"

Hecker: "She would have been involved in those -- some of those discussions."
Project Veritas' legal team subpoenaed Weingarten for her deposition. Many questions still need to be answered by AFT leaders and their conduct since the inception of this case.  The trial is pending Michigan Supreme Court resolution of whether Michigan is a one-party consent state, as overwhelming case precedent has held, or whether it is a two-party consent state, as a District Court has held in October 2020.  Oral argument is anticipated in the fall of 2021.
About Project Veritas
Project Veritas is a non-profit investigative news organization conducting undercover reporting. Project Veritas investigates and exposes corruption, dishonesty, self-dealing, waste, fraud, and other misconduct in both public and private institutions to achieve a more ethical and transparent society. Project Veritas is a registered 501(c)(3) organization.